Belles Fall in Nail-biter to Brits
ALBION, Mich. - The Saint Mary's tennis team fell by the narrowest of margins to conference foe Albion as the Brits edged out the 5-4 MIAA decision.
Margaret Faller and Andrea Fetters teamed up to take an 8-2 win at number three doubles for the Belles. Audrey Kiefer and Shannon Elliott were on the wrong side of a similar score at two doubles as the pair lost an 8-2 final in their flight. Mary Catherine Faller and Kayle Sexton fell in an 8-1 final in their match at one doubles.
The Belles and the Brits split the wins right down the middle in singles competition. Saint Mary's claimed victories at four, five, and six singles while Albion won the one, two, and match-deciding three singles flights.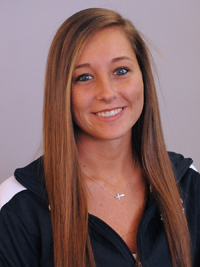 Shannon Elliott picked up a
hard-fought win at four singles
for the Belles.Audrey Kiefer was a 6-2, 6-0 winner at six singles, and Andrea Fetters also earned a straight-set victory at five singles by 6-3, 6-1 scores. Shannon Elliott won her opening set 6-2 and fended off her Albion counterpart in a tiebreaker 7-6 (7-3) in the second set for the four singles win.
Mary Catherine Faller had a tough 6-2, 6-3 loss at one singles while Kayle Sexton ended on the wrong side of a 6-3, 6-2 final at two doubles. Jackie Kjolhede battled in her opening set before falling in the tiebreaker 7-6 (7-3) and lost in her second set by a 6-1 score.
The Belles (6-5, 2-1 MIAA) return to action tomorrow, April 10 when they host cross-town rival Bethel for a 4:00 p.m. match.

Tennis Match Results
Albion College 5, Saint Mary's College 4
Singles competition
1. Marissa Cloutier (ALBION) def. Mary Catherine Faller (SMC) 6-2, 6-3
2. Katie Blumberg (ALBION) def. Kayle Sexton (SMC) 6-3, 6-2
3. Irene Chen (ALBION) def. Jackie Kjolhede (SMC) 7-6 (7-3), 6-1
4. Shannon Elliott (SMC) def. Heather Vogt (ALBION) 6-2, 7-6 (7-3)
5. Andrea Fetters (SMC) def. Lauren Rasmussen (ALBION) 6-3, 6-1
6. Audrey Kiefer (SMC) def. Christina Khim (ALBION) 6-2, 6-0
Doubles competition
1. Irene Chen/Katie Blumberg (ALBION) def. Mary Catherine Faller/Kayle Sexton (SMC) 8-1
2. Marissa Cloutier/Heather Vogt (ALBION) def. Audrey Kiefer/Shannon Elliott (SMC) 8-2
3. Margaret Faller/Andrea Fetters (SMC) def. Christina Khim/Lauren Rasmussen (ALBION) 8-2
Match Notes:
Saint Mary's College 6-5 (2-1 MIAA)
Albion College 11-1 (5-0 MIAA)