Belles Triumph Over Scots on Senior Day
NOTRE DAME, Ind. - After recognizing lone senior Mary Catherine Faller prior to the match, the Saint Mary's tennis team took little time to pick up the 9-0 conference win over Alma on Saturday afternoon.
The Belles as a whole conceded just one game in the three doubles matches combined to establish a quick 3-0 advantage. Margaret Faller and Andrea Fetters claimed an 8-0 win at three doubles just before Mary Catherine Faller and Kayle Sexton matched that 8-0 final at one doubles. Shannon Elliott and Audrey Kiefer had little trouble picking up an 8-1 win at two doubles to get Saint Mary's off to the solid start.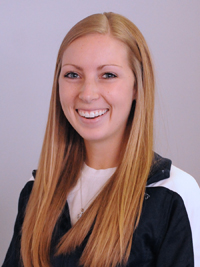 Senior Mary Catherine Faller was
recognized prior to the match for
Senior Day.The three through six singles matches were all controlled heavily by the Belles as Saint Mary's lost six combined games in those flights. Shannon Elliott kept the momentum going with a 6-0, 6-0 win at four singles. Audrey Kiefer officially clinched the win at six singles with a 6-1, 6-0 victory at six singles. Andrea Fetters finished next with a 6-2, 6-1 decision at five singles. Jackie Kjolhede picked up a 6-0, 6-2 win at three singles to give the Belles the 7-0 advantage.
Kayle Sexton turned on the pressure in the second set on her way to a 6-4, 6-1 win at the two singles flight. Mary Catherine Faller came back from a 4-3 deficit in her second set to claim a 6-4, 6-4 straight-set win at one singles on her Senior Recognition Day.
The Belles (8-5, 3-1 MIAA) travel to Adrian for a 4:00 p.m. conference match against the Bulldogs on Tuesday, April 15.

Saint Mary's College 9, Alma College 0
Singles competition
1. Mary Catherine Faller (SMC) def. Megan Solano (ALMA) 6-4, 6-4
2. Kayle Sexton (SMC) def. Morgan Waier (ALMA) 6-4, 6-1
3. Jackie Kjolhede (SMC) def. Lauren Moreau (ALMA) 6-0, 6-2
4. Shannon Elliott (SMC) def. Nicki Malekadeli (ALMA) 6-0, 6-0
5. Andrea Fetters (SMC) def. Paige Pontious (ALMA) 6-2, 6-1
6. Audrey Kiefer (SMC) def. Elizabeth Taylor (ALMA) 6-1, 6-0
Doubles competition
1. Mary Catherine Faller/Kayle Sexton (SMC) def. Megan Solano/Morgan Waier (ALMA) 8-0
2. Shannon Elliott/Audrey Kiefer (SMC) def. Lauren Moreau/Nicki Malekadeli (ALMA) 8-1
3. Margaret Faller/Andrea Fetters (SMC) def. Paige Pontious/Elizabeth Taylor (ALMA) 8-0