Belles Sink Pilots
MISHAWAKA, Ind. - The Saint Mary's tennis team took a 7-2 win against cross-town rival Bethel at the South Bend Racquet Club on Thursday evening.
The Belles got off to a strong start in doubles by taking the two and three flights. Both tandems jumped out to a 4-1 advantage against the Pilots. The two doubles pairing of Shannon Elliott and Sam Setterblad kept the pressure on and quickly claimed an 8-1 win. The three doubles combination of Andrea Fetters and Margaret Faller, meanwhile, established a 6-1 lead before ultimately taking the match 8-3.
Mary Catherine Faller and Kayle Sexton battled back from a 3-0 deficit to get within 5-4 of their Bethel counterparts at one doubles. The pair took the next two games to pull ahead 6-5, and the teams then split the next two games to make it a 7-6 match in favor of Faller and Sexton. The Pilots, however, turned the tables on the Belles and took the next three games in-a-row for a 9-7 decision.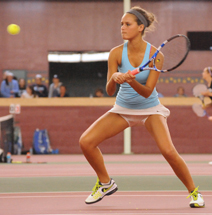 Margaret Faller helped the Belles set
the tone early against Bethel.Saint Mary's quickly went ahead by a 4-1 margin as Margaret Faller and Andrea Fetters claimed matching 6-2, 6-2 wins within just a few minutes of one another at six and five singles, respectively.
Kayle Sexton clinched the win for the Belles with a 6-3, 6-4 win at two singles. Sexton had been trailing 4-3 in the second set before winning the final three games for the straight-set decision. Less than five minutes later, Shannon Elliott added to the Saint Mary's margin of victory with a 7-5, 6-2 win at four singles. Elliott battled her way back from a 5-4 deficit in her opening set and kept the momentum from that early comeback going throughout the rest of her straight-set win.
Jackie Kjolhede and Mary Catherine Faller both had lengthy matches at three and one singles, respectively. Kjolhede was able to overcome a 7-5 loss in the first set with a 6-3 second set win to force the super tiebreaker. The junior completed the comeback with a 10-5 victory in the super tiebreaker. Faller also had a gritty comeback effort at one singles. After losing the first set 6-3, the senior took the second set in a tiebreaker 7-6 (7-5). But Faller's bid for a dramatic win ended just short in the super tiebreaker with a 10-6 score.
The Belles (7-5) return to conference play on Saturday, April 12 when they host Alma for a 1:00 p.m. match, which will also be Senior Recognition Day for lone senior Mary Catherine Faller.

Saint Mary's College 7, Bethel College 2
Singles competition
1. Molly O'Grady (BETHEL) def. Mary Catherine Faller (SMC) 6-3, 6-7 (5-7), 1-0 (10-6)
2. Kayle Sexton (SMC) def. Bethany Blodgett (BETHEL) 6-3, 6-4
3. Jackie Kjolhede (SMC) def. Stephani Sterrett (BETHEL) 5-7, 6-3, 1-0 (10-5)
4. Shannon Elliott (SMC) def. Melissa Ramer (BETHEL) 7-5, 6-2
5. Andrea Fetters (SMC) def. Samantha Lukas (BETHEL) 6-2, 6-2
6. Margaret Faller (SMC) def. Taryn Johnson (BETHEL) 6-2, 6-2
Doubles competition 1. Bethany Blodgett/Molly O'Grady (BETHEL) def. Mary Catherine Faller/Kayle Sexton (SMC) 9-7
2. Shannon Elliott/Sam Setterblad (SMC) def. Stephani Sterrett/Melissa Ramer (BETHEL) 8-1
3. Margaret Faller/Andrea Fetters (SMC) def. Samantha Lukas/Taryn Johnson (BETHEL) 8-3
Match Notes:
Order of finish: Doubles (2,3,1); Singles (6,5,2,4,3,1)