Belles Topple Knights to Clinch Tournament Berth
NOTRE DAME, Ind. - The Saint Mary's tennis team earned a spot in the top-four only MIAA Tournament with a 6-3 win over Calvin on Wednesday evening. The win also gave the Belles their tenth victory of the season, extending their streak to nine consecutive seasons with double-digit wins.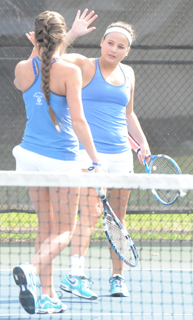 The Belles got off to a solid start by edging out the Knights in two of the three doubles matches. Shannon Elliott and Audrey Kiefer won an 8-6 match at two doubles. Margaret Faller and Andrea Fetters put Saint Mary's ahead with a 9-7 decision at three doubles. Mary Catherine Faller and Kayle Sexton battled but fell short in an 8-5 final at one doubles.
Saint Mary's claimed the three, four, five, and six singles matches to secure the win. Jackie Kjolhede out-lasted her counterpart in a set tiebreaker and went on to take her three singles match in straight sets by 7-6 (7-4), 6-3 scores. Shannon Elliott was a 6-4, 6-2 winner at four singles, and Andrea Fetters won by the same 6-4, 6-2 scores at five singles for the Belles. Audrey Kiefer was solid in a 6-3, 6-2 win at six singles for Saint Mary's.
Mary Catherine Faller and Kayle Sexton each had close matches in singles play. Faller won the opening set but lost an evenly-played one singles final 2-6, 6-4, 6-3. Sexton, meanwhile, was stopped short in a set tiebreaker in the opening set before ending on the wrong side of a 7-6 (7-4), 6-4 final at two singles.
The Belles (10-6, 5-2 MIAA) conclude the conference portion of their regular season schedule on Saturday, April 26 when they host Kalamazoo for a 1:00 p.m. match.

Saint Mary's College 6, Calvin College 3
Singles competition
1. Megan Visser (CALVINW) def. Mary Catherine Faller (SMC) 2-6, 6-4, 6-3
2. Claire Spoelhof (CALVINW) def. Kayle Sexton (SMC) 7-6 (7-4), 6-4
3. Jackie Kjolhede (SMC) def. Bethan Zoerhof (CALVINW) 7-6 (7-4), 6-3
4. Shannon Elliott (SMC) def. Ellie Benzel (CALVINW) 6-4, 6-2
5. Andrea Fetters (SMC) def. Liz Turner (CALVINW) 6-4, 6-2
6. Audrey Kiefer (SMC) def. Courtney Selvius (CALVINW) 6-3, 6-2
Doubles competition
1. Megan Visser/Claire Spoelhof (CALVINW) def. Mary Catherine Faller/Kayle Sexton (SMC) 8-5
2. Shannon Elliott/Audrey Kiefer (SMC) def. Bethan Zoerhof/Ellie Benzel (CALVINW) 8-6
3. Margaret Faller/Andrea Fetters (SMC) def. Liz Turner/Courtney Selvius (CALVINW) 9-7