Belles Downed by Regionally-Ranked Flying Dutch
NOTRE DAME, Ind. - The Saint Mary's tennis team lost an 8-1 match to No. 10 regionally-ranked Hope in conference action on Thursday afternoon.
The Flying Dutch won all three doubles flights and the first five singles matches completed. Shannon Elliott and Audrey Kiefer came up short in an 8-3 final at two doubles. Margaret Faller and Andrea Fetters were on the wrong side of an 8-2 final at three doubles, and Mary Catherine Faller and Kayle Sexton fell 8-1 at one doubles.
In singles play, Mary Catherine Faller put the pressure on her regionally-ranked counterpart from Hope as the senior took a 5-4 lead in the second set. Faller's effort to force a super tiebreaker for the match fell just short, however, as she fell 6-1, 7-5.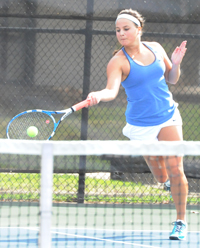 Audrey Kiefer came from behind and
won the six singles flight in a super
tiebreaker.Audrey Kiefer came back after a 6-3 loss in the first set to claim a 5-0 lead in the second set. The junior went on to win the set 6-3 to force the super tiebreaker. Kiefer broke the 4-4 tie in the extra set and held the lead the rest of the way to a 10-7 win to claim the six singles flight.
Shannon Elliott had a tight first set as she stayed close early before ending on the short end of a 6-3, 6-1 final at four singles.
The Belles (9-6, 4-2 MIAA) are off from competition until Wednesday, April 23 when they host Calvin for a 4:00 p.m. conference match.

Hope College 8, Saint Mary's College 1
Singles competition
1. #7 Nancy Benda (HOPEW) def. Mary Catherine Faller (SMC) 6-1, 7-5
2. #14 Claire Cooper (HOPEW) def. Kayle Sexton (SMC) 6-1, 6-0
3. Carli Capestany (HOPEW) def. Jackie Kjolhede (SMC) 6-0, 6-0
4. Paige Courts (HOPEW) def. Shannon Elliott (SMC) 6-3, 6-1
5. Anna Garcia (HOPEW) def. Andrea Fetters (SMC) 6-1, 6-1
6. Audrey Kiefer (SMC) def. Kate Mader (HOPEW) 3-6, 6-3, 1-0 (10-7)
Doubles competition
1. #2 Nancy Benda/Carli Capestany (HOPEW) def. Mary Catherine Faller/Kayle Sexton (SMC) 8-1
2. Claire Cooper/Anna Garcia (HOPEW) def. Shannon Elliott/Audrey Kiefer (SMC) 8-3
3. Marie Holaway/Mallory Smith (HOPEW) def. Margaret Faller/Andrea Fetters (SMC) 8-2
Match Notes:
Hope College 11-5, 4-1 MIAA; Regional ranking #10
Saint Mary's College 9-6, 4-2 MIAA
Order of finish: Doubles (3,1,2); Singles (2,5,3,4,1,6)