Belles Defeated by No. 16 Wildcats
FORT WAYNE, Ind. - The Saint Mary's tennis team lost an 8-1 match to NAIA No. 16 Indiana Wesleyan at the Wildwood Racquet Club on Tuesday afternoon.
The 18-1 Wildcats took all three doubles flights and won five of the six contested singles matches.
Margaret Faller and Andrea Fetters had a close match in three doubles competition as the pair was edged out by an 8-6 score. Mary Catherine Faller and Kayle Sexton lost an 8-2 final at one doubles while Shannon Elliott and Audrey Kiefer fell by a matching 8-2 score at two doubles.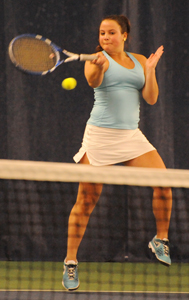 Audrey Kiefer won her six singles
match against Indiana Wesleyan.Kiefer bounced back in singles play by claiming a 6-4, 6-4 win at six singles for the Belles. Fetters and Elliott each played tough matches in their singles flights. Fetters lost the opening set in a tie breaker 7-6 (4) before ending the second set on the wrong side of a 6-2 score. Shannon Elliott fought her way to a tiebreaker in the second set after falling 6-1 in the opening set, but the comeback fell short in a 7-5 tiebreaker.
Mary Catherine Faller lost a 6-1, 6-1 match at one singles. Kayle Sexton and Jackie Kjolhede were both on the short side of 6-0, 6-0 decisions at two and three singles, respectively. The Belles (6-4) return to MIAA competition on Wednesday, April 8 when they travel to Albion for a 4:00 p.m. match against the Brits.

Results
Indiana Wesleyan 8, Saint Mary's College 1
Singles competition
1. Katie Wilson (IWU-W) def. Mary Catherine Faller (SMC) 6-1, 6-1
2. Rachel Bottorff (IWU-W) def. Kayle Sexton (SMC) 6-0, 6-0
3. Rachael Heiniger (IWU-W) def. Jackie Kjolhede (SMC) 6-0, 6-0
4. Kim Mella (IWU-W) def. Shannon Elliott (SMC) 6-1, 7-6 (7-5)
5. Courtney Siepman (IWU-W) def. Andrea Fetters (SMC) 7-6 (7-4), 6-2
6. Audrey Kiefer (SMC) def. Gabby D'Aniello (IWU-W) 6-4, 6-4
Doubles competition
1. Katie Wilson/Kim Mella (IWU-W) def. Mary Catherine Faller/Kayle Sexton (SMC) 8-2
2. Rachel Bottorff/Courtney Siepman (IWU-W) def. Shannon Elliott/Audrey Kiefer (SMC) 8-2
3. Ellen Hornett/Kelsey Vessels (IWU-W) def. Margaret Faller/Andrea Fetters (SMC) 8-6