Belles Stung by Regionally-Ranked Hornets
NOTRE DAME, Ind. - The Saint Mary's tennis team lost a 7-2 match to No. 9 regionally ranked Kalamazoo in conference action on Saturday.
The Hornets took all three doubles flights while the Belles battled their way to a pair of singles wins.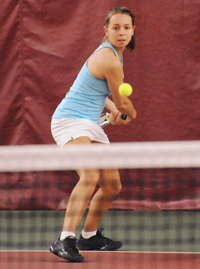 Jackie Kjolhede won at three singles.Jackie Kjolhede held off her Kalamazoo counterpart in the opening set for a 7-5 victory and went on to take the second set 6-2 for a win at three singles. Andrea Fetters had a highly-competitive match at five singles but prevailed by the tight 7-5, 7-5 final.
Shannon Elliott was narrowly edged out in the opening set of her four singles match by a 7-5 score before falling in straight sets.
Mary Catherine Faller and Kayle Sexton posted a close 8-5 score against the regionally-ranked pairing of Sarah Woods and Jenna Riehl at one doubles.
The Belles (10-7, 5-3 MIAA) wrap up the regular season and prepare for the MIAA Tournament as they travel to North Central for a match on Monday, April 28.

#9 Kalamazoo College 7, Saint Mary's College 2
Singles competition
1. #4 Sarah Woods (KZOO-W) def. Mary Catherine Faller (SMC) 6-0, 6-4
2. Jenna Riehl (KZOO-W) def. Kayle Sexton (SMC) 6-2, 6-3
3. Jackie Kjolhede (SMC) def. Kelsey Moran (KZOO-W) 7-5, 6-2
4. Sabrina Dass (KZOO-W) def. Shannon Elliott (SMC) 7-5, 6-0
5. Andrea Fetters (SMC) def. Ania Latala (KZOO-W) 7-5, 7-5
6. Olivia Bouchard (KZOO-W) def. Audrey Kiefer (SMC) 6-3, 6-3
Doubles competition
1. #14Sarah Woods/Jenna Riehl (KZOO-W) def. Mary Catherine Faller/Kayle Sexton (SMC) 8-5
2. Kelsey Moran/Olivia Bouchard (KZOO-W) def. Audrey Kiefer/Shannon Elliott (SMC) 8-3
3. Sabrina Dass/Ania Latala (KZOO-W) def. Margaret Faller/Andrea Fetters (SMC) 8-4