Belles Stopped by Hornets in MIAA Tournament Semifinal
KALAMAZOO, Mich. - The Saint Mary's tennis team may have entered the MIAA Tournament as underdogs against top-seeded Kalamazoo, but that did not keep the Belles from putting up a big fight against the Hornets before falling 5-1.
The doubles flights were packed with strong rallies and tight matches. Margaret Faller and Andrea Fetters went back-and-forth with their Kalamazoo counterparts, but the Belles duo ultimately came up three games shy of the Hornets in an 8-5 final at three doubles.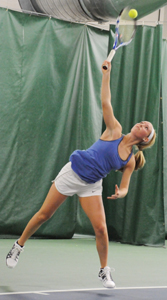 Mary Catherine Faller wrapped
up her career in the MIAA
Tournament against Kalamazoo.Mary Catherine Faller and Kayle Sexton fell behind early in their one doubles match against the regionally-ranked pairing of Sarah Woods and Jenna Riehl. Faller and Sexton trailed 3-0 and were still behind by the same three-game margin at 6-3 before making a huge comeback. The pair won the next five games in-a-row for an 8-6 victory to square the match at 1-1 through the first two completed flights.
Shannon Elliott and Audrey Kiefer put up a similar battle in the two doubles flight. The Hornets claimed a 7-4 lead and were on the verge of a decisive win at two doubles. Elliott and Kiefer won the next three games to tie the flight at 7-7. The Hornets pulled ahead 8-7, but the Belles came right back with the next game to force the tiebreaker. The two doubles teams traded blows point for point and were knotted at 4-4 in the tiebreaker. The Kalamazoo pairing, however, took three of the next four points for the 7-5 tiebreaker to give the Hornets the 2-1 lead after doubles.
Riding the momentum from doubles play, the regionally-ranked Hornets went on to take the first three singles matches that were played to decision to claim a 5-1 win and advance to the conference tournament championship.
Shannon Elliott ended on the short side of a 6-3, 6-1 final at four singles, Kayle Sexton fell 6-1, 6-1 at two singles, and Mary Catherine Faller lost a tightly played 6-2, 6-3 final at one singles.
Jackie Kjolhede had just started her second set after falling 6-4 in the opener before the match was decided. The junior's three singles match was not played out.
The Belles conclude their season with an 11-8 overall record.

#9 Kalamazoo College 5, Saint Mary's College 1
Singles competition
1. #4 Sarah Woods (KZOO-W) def. Mary Catherine Faller (SMC) 6-2, 6-3
2. Jenna Riehl (KZOO-W) def. Kayle Sexton (SMC) 6-1, 6-1
3. Kelsey Moran (KZOO-W) vs. Jackie Kjolhede (SMC) 6-4, unfinished
4. Sabrina Dass (KZOO-W) def. Shannon Elliott (SMC) 6-3, 6-1
5. Ania Latala (KZOO-W) vs. Andrea Fetters (SMC) unfinished
6. Olivia Bouchard (KZOO-W) vs. Audrey Kiefer (SMC) unfinished
Doubles competition
1. Mary Catherine Faller/Kayle Sexton (SMC) def. #14 Sarah Woods/Jenna Riehl (KZOO-W) 8-6
2. Kelsey Moran/Olivia Bouchard (KZOO-W) def. Shannon Elliott/Audrey Kiefer (SMC) 9-8 (7-5)
3. Sabrina Dass/Ania Latala (KZOO-W) def. Margaret Faller/Andrea Fetters (SMC) 8-5
Match Notes:
Saint Mary's College 11-8, 5-3 MIAA
Kalamazoo College 15-4, 8-0 MIAA; Regional ranking #9
Order of finish: Doubles (3,1,2); Singles (4,2,1)
MIAA Tournament semifinal match
Official: Harold VanderSalm T-2:35 A-75