Belles Top Comets in Conference Opener
BATTLE CREEK, Mich. - The Saint Mary's tennis team had little trouble picking up a 9-0 win in their MIAA opener against Olivet on Sunday afternoon.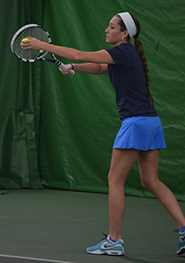 Shannon Elliott prepares to serve
against Olivet on Sunday. (Photo
courtesy of Geoff Henson, Olivet SID)The Belles lost just two games in the three doubles matches on the day. Mary Catherine Faller and Kayle Sexton were 8-0 winners at one doubles, and Margaret Faller and Andrea Fetters added an 8-0 win at three doubles. Shannon Elliott and Audrey Kiefer, meanwhile, picked up an 8-2 win at two doubles to give the Belles the 3-0 advantage.
The trend of losing only two games total continued in singles play for Saint Mary's as a whole. Mary Catherine Faller, Kayle Sexton, Jackie Kjolhede, and Shannon Elliott were all 6-0, 6-0 winners in the one through four singles flights, respectively. Andrea Fetters and Audrey Kiefer had matching 6-0, 6-1 wins at five and six singles to give the Belles the 9-0 MIAA victory.
The Belles (5-3, 1-0 MIAA) return to action on Thursday, March 27 when they travel to Indiana Wesleyan for a 4:00 p.m. match against the Wildcats.

Saint Mary's College 9, Olivet College 0
Singles competition
1. Mary Catherine Faller (SMC) def. Isabel Snyder (OLIVET) 6-0, 6-0
2. Kayle Sexton (SMC) def. Courtney Kidder (OLIVET) 6-0, 6-0
3. Jackie Kjolhede (SMC) def. Lucy McNally (OLIVET) 6-0, 6-0
4. Shannon Elliott (SMC) def. Alexis Hyatt (OLIVET) 6-0, 6-0
5. Andrea Fetters (SMC) def. Sarah Crittenden (OLIVET) 6-0, 6-1
6. Audrey Kiefer (SMC) def. Katie Dobis (OLIVET) 6-0, 6-1
Doubles competition
1. Mary Catherine Faller/Kayle Sexton (SMC) def. Isabel Snyder/Lucy McNally (OLIVET) 8-0
2. Shannon Elliott/Audrey Kiefer (SMC) def. Alexis Hyatt/Courtney Kidder (OLIVET) 8-2
3. Margaret Faller/Andrea Fetters (SMC) def. Sarah Crittenden/Katie Dobis (OLIVET) 8-0
Match Notes:
Saint Mary's College 5-3, 1-0 MIAA
Olivet College 0-2, 0-2 MIAA