Belles Shut Down Bulldogs
NOTRE DAME, Ind. - The Saint Mary's tennis team made quick work of visiting Adrian as the Belles claimed an 8-1 win in just over two hours on Tuesday afternoon. The victory gives the team their tenth win of the year and extends their streak of 10-plus wins to nine consecutive seasons.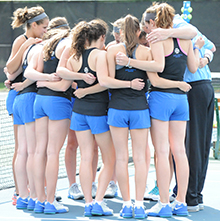 Shannon Elliott and Andrea Fetters started things off with an 8-3 win at two doubles. A few minutes later, Sam Setterblad and Kayle Sexton completed an 8-2 win at one doubles for the Belles. Margaret Faller and Maddie Minaudo capped off the sweep with an 8-3 decision at three doubles to give Saint Mary's the momentum heading into singles play.
Kayle Sexton put the Belles one win away from clinching the match with a quick 6-0, 6-0 victory at two singles. Margaret Faller then secured the win with a 6-1, 6-0 decision at five singles. Andrea Fetters finished her match just a few moments later with a 6-1, 6-1 victory at one singles. Shannon Elliott battled her way to a 6-3, 6-1 win at four singles, and Jackie Kjolhede withstood a late push by her counterpart for a 6-0, 6-3 decision at three singles. Bailey Oppman played several long volleys and was evenly matched with her Adrian opponent despite falling 6-2, 6-2 at six singles to conclude the match.
The Belles (10-8, 4-2 MIAA) travel to Albion on Saturday, April 18 for a 1:00 p.m. conference match against the Brits.
Saint Mary's College 8, Adrian College 1
Singles competition
1. Andrea Fetters (SMC) def. Arielle Williams (ADRIAN) 6-1, 6-1
2. Kayle Sexton (SMC) def. Renae Adams Almasy (ADRIAN) 6-0, 6-0
3. Jackie Kjolhede (SMC) def. Morgan Spencer (ADRIAN) 6-0, 6-3
4. Shannon Elliott (SMC) def. Kylee Bezeau (ADRIAN) 6-3, 6-1
5. Margaret Faller (SMC) def. Justine Hanson (ADRIAN) 6-1, 6-0
6. McKenzie Krieg (ADRIAN) def. Bailey Oppman (SMC) 6-2, 6-2
Doubles competition
1. Sam Setterblad/Kayle Sexton (SMC) def. Arielle Williams/Renae Adams Almasy (ADRIAN) 8-2
2. Shannon Elliott/Andrea Fetters (SMC) def. Morgan Spencer/Kylee Bezeau (ADRIAN) 8-3
3. Margaret Faller/Maddie Minaudo (SMC) def. Justine Hanson/Victoria Watson (ADRIAN) 8-3