Belles on Brink of Tournament Berth with Win Over Brits
ALBION, Mich. - The Saint Mary's tennis team earned their first win over Albion in 11 years with an 8-1 decision against the Brits on Saturday.
The Belles set the tone early by claiming all three doubles flights. Shannon Elliott and Andrea Fetters earned an 8-2 victory at two doubles. Margaret Faller and Maddie Minaudo won an 8-3 match at three doubles. Sam Setterblad and Kayle Sexton picked up an 8-4 one doubles decision for the Belles.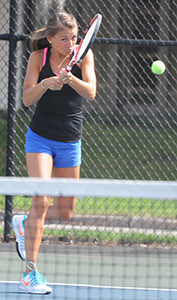 Kayle Sexton picked up a 6-0,
6-1 win at two singles for the
Belles.Kayle Sexton and Margaret Faller each dropped only one game on their way to decisive singles wins. Sexton was a 6-0, 6-1 winner at two singles, and Faller won a 6-1, 6-0 match at five singles. Bailey Oppman claimed a 6-2, 6-0 win at six singles while Jackie Kjolhede also surrendered just three games in a 6-1, 6-2 decision at three singles. Shannon Elliott earned a 6-1, 6-3 win at four singles. Andrea Fetters played a tough one singles match. After falling 7-6 (7-5) in the first set, she flew through the second set 6-0 to force the super tiebreaker. The junior, however, was narrowly edged out by a 10-7 score in the tiebreaker.
The Belles, who currently sit third in the MIAA standings, could know for certain at the conclusion of next Wednesday's league matches if they will be a lock for the top-four only MIAA Tournament in two weeks.
Saint Mary's (11-8, 5-2 MIAA) returns to play on Monday, April 20 when they host North Central at 4:00 p.m.
Saint Mary's College 8, Albion College 1
Singles competition
1. Irene Chen (ALBION) def. Andrea Fetters (SMC) 7-6 (7-5), 0-6, 1-0 (10-7)
2. Kayle Sexton (SMC) def. Margaux Kabodian (ALBION) 6-0, 6-1
3. Jackie Kjolhede (SMC) def. Lauren Rasmussen (ALBION) 6-1, 6-2
4. Shannon Elliott (SMC) def. Olivia Conover (ALBION) 6-1, 6-3
5. Margaret Faller (SMC) def. Rachel Barry (ALBION) 6-1, 6-0
6. Bailey Oppman (SMC) def. Jessica Scott (ALBION) 6-2, 6-0
Doubles competition
1. Sam Setterblad/Kayle Sexton (SMC) def. Irene Chen/Margaux Kabodian (ALBION) 8-4
2. Shannon Elliott/Andrea Fetters (SMC) def. Olivia Conover/Lauren Rasmussen (ALBION) 8-2
3. Margaret Faller/Maddie Minaudo (SMC) def. Rachel Barry/Jessica Scott (ALBION) 8-3