Belles Stop Scots for Conference Win
NOTRE DAME, Ind. - The Saint Mary's tennis team claimed a 6-3 MIAA win over Alma on Saturday afternoon.
The Belles took a 2-1 lead through the completion of doubles play. Shannon Elliott and Andrea Fetters were 8-2 winners at two doubles while Sam Setterblad and Maddie Minaudo won an 8-3 match at three doubles. Kayle Sexton and Margaret Faller were narrowly defeated by an 8-6 score at one doubles.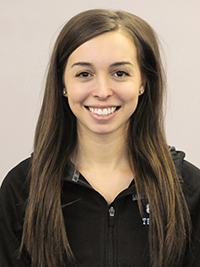 Jackie Kjolhede won 6-0, 6-0 in
singles play.Saint Mary's made quick work of clinching the team victory in singles play. Jackie Kjolhede did not drop a single game on her way to a 6-0, 6-0 win at three singles. Margaret Faller lost just a single game in her 6-1, 6-0 victory at five singles. Bailey Oppman, meanwhile, was strong in a 6-1, 6-1 win at six singles for the Belles. Kayle Sexton added to the win with a 6-0, 6-4 decision at two singles.
Andrea Fetters fell by a 6-4, 6-2 score at one singles. Shannon Elliott battled tough in her four singles match as she ended on the short side of a 7-5, 6-1 final.
The Belles (6-6, 1-1 MIAA) are back on the court on Tuesday, March 24 when they host Indiana Wesleyan at 4:00 p.m.
Saint Mary's College 6, Alma College 3
Singles competition
1. Megan Solano (ALMAW) def. Andrea Fetters (SMC) 6-4, 6-2
2. Kayle Sexton (SMC) def. Morgan Waier (ALMAW) 6-0, 6-4
3. Jackie Kjolhede (SMC) def. Nicki Malekadeli (ALMAW) 6-0, 6-0
4. Paige Pontious (ALMAW) def. Shannon Elliott (SMC) 7-5, 6-1
5. Margaret Faller (SMC) def. Claudia Barajas (ALMAW) 6-1, 6-0
6. Bailey Oppman (SMC) def. Chloe Ramsey (ALMAW) 6-1, 6-1
Doubles competition
1. Megan Solano/Morgan Waier (ALMAW) def. Kayle Sexton/Margaret Faller (SMC) 8-6
2. Shannon Elliott/Andrea Fetters (SMC) def. Nicki Malekadeli/Paige Pontious (ALMAW) 8-2
3. Sam Setterblad/Maddie Minaudo (SMC) def. Claudia Barajas/Chloe Ramsey (ALMAW) 8-3