Belles Fly Past Pilots
MISHAWAKA, Ind. - The Saint Mary's tennis team earned their second win in as many days with a 7-1 win over cross-town rival Bethel on Thursday night at the South Bend Racquet Club.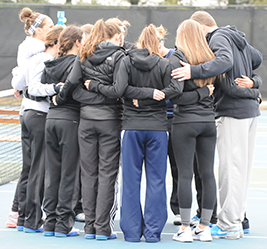 The match was being played only to decision rather to full completion, but that did not keep the Belles from getting ahead early. Margaret Faller and Maddie Minaudo did not drop a game on the way to an 8-0 win at three doubles. Andrea Fetter and Shannon Elliott lost just a single game in an 8-1 win at two doubles. Kayle Sexton and Sam Setterblad had their work cut out for them but were unable to prevail in an 8-6 final at one doubles.
Saint Mary's raced through five of the six singles flights to secure the win. Bailey Oppman won 6-0, 6-0 at six singles while Shannon Elliott and Margaret Faller had matching 6-0, 6-1 victories at four and five singles, respectively. Kayle Sexton was a 6-2, 6-1 winner at two singles, and Jackie Kjolhede wrapped up a 6-4, 6-2 win at three singles before the match was ended. Andrea Fetters had battled her way to a 7-5 first set win at one singles, but her match was halted early in the second set.
The Belles have a break tomorrow but return to their home court on Saturday to host Calvin at 1:00 p.m. The team's three members of the senior class - Shannon Elliott, Jackie Kjolhede, and Kayle Sexton - will all be recognized prior to the start of the match for their contributions to the program over the past four seasons.
Saint Mary's College 7, Bethel College 1
Singles competition
1. Bethany Blodgett (BETHEL) vs. Andrea Fetters (SMC) 5-7, 0-1, unfinished
2. Kayle Sexton (SMC) def. Madison Madewell (BETHEL) 6-2, 6-1
3. Jackie Kjolhede (SMC) def. Taryn Johnson (BETHEL) 6-4, 6-2
4. Shannon Elliott (SMC) def. Samantha Lukas (BETHEL) 6-0, 6-1
5. Margaret Faller (SMC) def. Alaina Donegan (BETHEL) 6-0, 6-1
6. Bailey Oppman (SMC) def. Olivia Krieger (BETHEL) 6-0, 6-0
Doubles competition
1. Bethany Blodgett/Madison Madewell (BETHEL) def. Kayle Sexton/Sam Setterblad (SMC) 8-6
2. Andrea Fetters/Shannon Elliott (SMC) def. Taryn Johnson/Samantha Lukas (BETHEL) 8-1
3. Margaret Faller/Maddie Minaudo (SMC) def. Alaina Donegan/Adrienne Koppinger (BETHEL) 8-0