Belles Fall to Knights
NOTRE DAME, Ind. - In a battle for a spot in the top four of the conference standings, the Saint Mary's tennis team was narrowly edged out in a 6-3 final against Calvin on Saturday.
The Belles were just a few points away from sweeping the doubles results. Margaret Faller and Maddie Minaudo won a decisive 8-1 match at three doubles while Andrea Fetters and Shannon Elliott claimed an 8-4 win at two doubles. The one doubles match was decided in a tiebreaker with Kayle Sexton and Sam Setterblad ending on the short side of a 9-8 (7-3) final.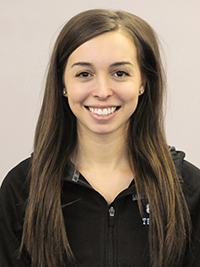 Jackie KjolhedeCalvin went on to take five of the six singles flights, but the Belles battled to the final point. Jackie Kjolhede earned a 6-0, 6-2 victory at three singles. Andrea Fetters went to a tiebreaker in her opening set but fell in a 7-6 (7-2), 6-3 final. Bailey Oppman was dominant in her opening set with a 6-0 victory before her Calvin counterpart staged a big comeback with 6-4, 6-3 decisions in the second and third sets.
Margaret Faller nearly turned the tables in her five singles match by falling by just two games in the second set in a 6-1, 6-4 final. Shannon Elliott was stopped by 6-3, 6-2 scores at four singles while Kayle Sexton was on the short end of a 6-0, 6-3 final at two singles.
The Belles (9-8, 3-2 MIAA) look to bounce back on Tuesday, April 14 when they host Adrian for a conference match starting at 4:00 p.m.
Calvin College 6, Saint Mary's College 3
Singles competition
1. Megan Visser (CALVINW) def. Andrea Fetters (SMC) 7-6 (7-2), 6-3
2. Ellie Benzel (CALVINW) def. Kayle Sexton (SMC) 6-0, 6-3
3. Jackie Kjolhede (SMC) def. Claire Spoelhof (CALVINW) 6-0, 6-2
4. Jessica Bouma (CALVINW) def. Shannon Elliott (SMC) 6-3, 6-2
5. Ali Roode (CALVINW) def. Margaret Faller (SMC) 6-1, 6-4
6. Kari Kroeze (CALVINW) def. Bailey Oppman (SMC) 0-6, 6-4, 6-3
Doubles competition
1. Megan Visser/Claire Spoelhof (CALVINW) def. Kayle Sexton/Sam Setterblad (SMC) 9-8 (7-3)
2. Andrea Fetters/Shannon Elliott (SMC) def. Jessica Bouma/Ellie Benzel (CALVINW) 8-4
3. Margaret Faller/Maddie Minaudo (SMC) def. Liz Turner/Kari Kroeze (CALVINW) 8-1