Belles Fall to Fords in Florida
ORLANDO, Fla. - The Saint Mary's tennis team had a tall task facing off against regionally-ranked Haverford on Wednesday. While the 8-1 final made the match appear lopsided, the Belles were just a few points away from making the scorebook a lot closer than it may have seemed.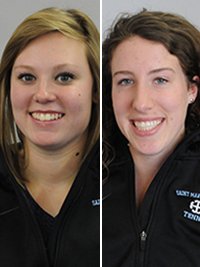 Sam Setterblad and Maddie
Minaudo claimed an 8-5 win at
three doubles.Sam Setterblad and Maddie Minaudo took an 8-5 win at three doubles to make the overall match score 1-1 after Kayle Sexton and Margaret Faller lost an 8-1 match at one doubles. Andrea Fetters and Shannon Elliott were in their two doubles match until the end as the pair fell by a close 8-6 margin.
Despite the Fords clinching the win with the first three completed singles matches, the Belles continued to battle. Jackie Kjolhede and Kelsey Kopf both went to super tiebreakers in their singles matches. Kjolhede won her first set 6-4 before her Haverford opponent won 6-3 at three singles. Kjolhede was narrowly edged out by a 10-7 score in the tiebreaker. Kopf, meanwhile, won her opening set 6-1 at six singles. But her opponent came back to win the second set 6-4 and the tiebreaker by a 10-7 final.
Margaret Faller held her own at four singles despite ending on the wrong side of a 6-3, 6-3 score. Bailey Oppman fell 6-0, 6-4 at five singles against the Fords. Kayle Sexton came up short at two singles in a 6-2, 6-2 match, and Andrea Fetters lost a 6-0, 6-1 final at one singles.
The Belles (5-5) conclude their spring break trip on Friday when they face off against Wheaton at 11:30 a.m.
Haverford 8, Saint Mary's College 1
Singles competition
1. Caitlin Gallagher (HAVWTEN) def. Andrea Fetters (SMC) 6-0, 6-1
2. Greta Koch (HAVWTEN) def. Kayle Sexton (SMC) 6-2, 6-2
3. Robyn Himelstein (HAVWTEN) def. Jackie Kjolhede (SMC) 4-6, 6-3, 1-0 (10-7)
4. Abby Payson (HAVWTEN) def. Margaret Faller (SMC) 6-3, 6-3
5. Jessica Liu (HAVWTEN) def. Bailey Oppman (SMC) 6-0, 6-4
6. Courtney Ahmed (HAVWTEN) def. Kelsey Kopf (SMC) 1-6, 6-4, 1-0 (10-7)
Doubles competition
1. Caitlin Gallagher/Robyn Himelstein (HAVWTEN) def. Kayle Sexton/Margaret Faller (SMC) 8-1
2. Greta Koch/Abby Payson (HAVWTEN) def. Andrea Fetters/Shannon Elliott (SMC) 8-6
3. Sam Setterblad/Maddie Minaudo (SMC) def. Jessica Liu/Kristen Andersen (HAVWTEN) 8-5
Match Notes:
Saint Mary's College 5-5
Haverford 2-1; Regional ranking #15
Order of finish: Doubles (1,3,2); Singles (1,2,4,5,6,3)