Belles Topped by Nationally-Ranked Wildcats
NOTRE DAME, Ind. - The Saint Mary's tennis team lost a 9-0 match to No. 14 nationally-ranked Indiana Wesleyan on Wednesday evening.
Kayle Sexton and Sam Setterblad lost an 8-2 match at one doubles, followed shortly by Andrea Fetters and Kaity Venters having the same result at two doubles. Margaret Faller and Maddie Minaudo held tough before falling 8-5 at three doubles.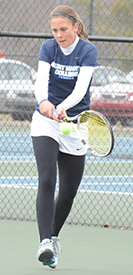 Andrea Fetters connects
on a backhand return
in her one singles
match.Kayle Sexton ended on the short side of a 6-1, 6-0 final at two singles, and Jackie Kjolhede shouldered a 6-0, 6-1 loss at three singles to secure the overall team decision for the Wildcats. Kelsey Kopf won a pair of games before falling 6-1, 6-1 at six singles, and Margaret Faller was on the wrong end of a 6-2, 6-1 decision at four singles.
Andrea Fetters played point for point with her counterpart at one singles, who is ranked tenth in the latest NAIA national singles ranking. Fetters was unable to overcome the deficit after falling behind on the way to the 7-5, 6-3 loss. Bailey Oppman was also tough in her singles match on the day for the Belles, but fell short in a 6-2, 6-4 final at five singles.
The Belles (6-7) travel to Olivet on Saturday, March 28 for a 1:00 p.m. conference match against the Comets.
Indiana Wesleyan University 9, Saint Mary's College 0
Singles competition
1. #10 Katie Wilson (IWU-W) def. Andrea Fetters (SMC) 7-5, 6-3
2. Rachel Bottorff (IWU-W) def. Kayle Sexton (SMC) 6-1, 6-0
3. Kelsey Vessels (IWU-W) def. Jackie Kjolhede (SMC) 6-0, 6-1
4. Kim Mella (IWU-W) def. Margaret Faller (SMC) 6-2, 6-1
5. Courtney Siepman (IWU-W) def. Bailey Oppman (SMC) 6-2, 6-4
6. Mikayla Marazzi (IWU-W) def. Kelsey Kopf (SMC) 6-1, 6-1
Doubles competition
1. Katie Wilson/Kim Mella (IWU-W) def. Kayle Sexton/Sam Setterblad (SMC) 8-2
2. Rachel Bottorff/Kelsey Vessels (IWU-W) def. Andrea Fetters/Kaity Venters (SMC) 8-2
3. Diane Jones/Ellen Hornett (IWU-W) def. Margaret Faller/Maddie Minaudo (SMC) 8-5 Match Notes: Indiana Wesleyan ranked #14 in NAIA Coaches' Poll