Belles Ground Eagles
NOTRE DAME, Ind. - The Saint Mary's tennis team defeated visiting Judson by a 7-2 margin on Saturday afternoon.
The doubles tandem of Andrea Fetters and Jackie Kjolhede got things started for the Belles with a decisive 8-0 win at three doubles. Kayle Sexton and Margaret Faller edged out an 8-6 win at one doubles to put Saint Mary's ahead 2-1 after the completion of doubles.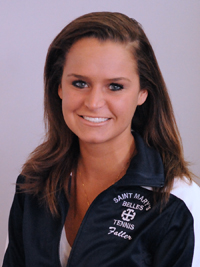 Margaret Faller earned a strong
win at singles for the BellesMargaret Faller lost just one game in a 6-0, 6-1 win at five singles. Andrea Fetters and Bailey Oppman each dropped just two games in their wins with Fetters claiming a 6-0, 6-2 decision at two singles and Oppman gaining a 6-1, 6-1 win at six singles for the Belles.
Jackie Kjolhede was a 6-2, 6-1 winner at three singles, and Shannon Elliott fought back and outlasted her Judson counterpart for a 3-6, 6-4, 1-0 (10-8) victory at four singles.
The Belles return to competition in the spring semester on February 7 when they host Aquinas.
Saint Mary's College 7, Judson University 2
Singles competition
1. Emmie Chan (JUDSON) def. Kayle Sexton (SMC) 7-5, 6-2
2. Andrea Fetters (SMC) def. Nyssa Fetzner (JUDSON) 6-0, 6-2
3. Jackie Kjolhede (SMC) def. Marcilyn Rowan (JUDSON) 6-2, 6-1
4. Shannon Elliott (SMC) def. Lauren Saiki (JUDSON) 3-6, 6-4, 1-0 (10-8)
5. Margaret Faller (SMC) def. Abby Jungles (JUDSON) 6-0, 6-1
6. Bailey Oppman (SMC) def. Leanna Krueger (JUDSON) 6-1, 6-1
Doubles competition
1. Kayle Sexton/Margaret Faller (SMC) def. Emmie Chan/Lauren Saiki (JUDSON) 8-6
2. Nyssa Fetzner/Marcilyn Rowan (JUDSON) def. Shannon Elliott/Sam Setterblad (SMC) 9-7
3. Andrea Fetters/Jackie Kjolhede (SMC) def. Abby Jungles/Leanna Krueger (JUDSON) 8-0