Belles Soar Past Comets
BATTLE CREEK, Mich. - The Saint Mary's tennis team picked up their second conference win of the year with a decisive 8-1 win over Olivet on Saturday.
The Belles were able to establish a big lead by sweeping all three doubles flights. Kayle Sexton and Sam Setterblad outlasted their Olivet counterparts with a 9-8 (7-1) victory at one doubles. Margaret Faller and Maddie Minaudo teamed up for an 8-3 win at two doubles, and Jackie Kjolhede and Shannon Elliott held on for an 8-5 victory at the three doubles flight.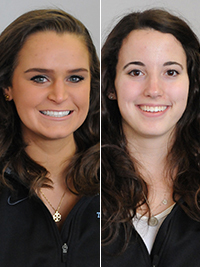 Margaret Faller (left) and Kelsey
Kopf (right) both earned 6-0, 6-1
wins in singles play.Saint Mary's continued to cruise in singles play. Margaret Faller and Kelsey Kopf each picked up 6-0, 6-1 wins at four and six singles, respectively. Bailey Oppman earned a 6-1, 6-1 victory at five singles. Jackie Kjolhede claimed a 6-4, 6-0 win at two singles, and Shannon Elliott was a 6-3, 6-2 winner at three singles on the afternoon. Kayle Sexton battled at one singles but came up short in a 6-4, 6-2 match.
The Belles (7-7, 2-1 MIAA) have over a week to prepare for their next conference match. The team returns to play on Wednesday, April 8 when they host Trine at 4:00 p.m.
Saint Mary's College 8, Olivet 1
Singles competition
1. Maddy Drikakis (OLIVET) def. Kayle Sexton (SMC) 6-4, 6-2
2. Jackie Kjolhede (SMC) def. Blake Day (OLIVET) 6-4, 6-0
3. Shannon Elliott (SMC) def. Haley Powers (OLIVET) 6-3, 6-2
4. Margaret Faller (SMC) def. BreAnne Rudlaff (OLIVET) 6-0, 6-1
5. Bailey Oppman (SMC) def. Lucy McNally (OLIVET) 6-1, 6-1
6. Kelsey Kopf (SMC) def. Devan Thomas (OLIVET) 6-0, 6-1
Doubles competition
1. Kayle Sexton/Sam Setterblad (SMC) def. Maddy Drikakis/Blake Day (OLIVET) 9-8 (7-1)
2. Margaret Faller/Maddie Minaudo (SMC) def. Haley Powers/BreAnne Rudlaff (OLIVET) 8-3
3. Jackie Kjolhede/Shannon Elliott (SMC) def. Lucy McNally/Isabel Snyder (OLIVET) 8-5