Belles Roll Thunder
NOTRE DAME, Ind. - The Saint Mary's tennis team made quick work of a 7-2 conference win over Trine on Wednesday evening.
The Belles earned the early lead by winning two of the three doubles flights. Andrea Fetters and Shannon Elliott barely missed a beat in an 8-1 win at two doubles while Margaret Faller and Maddie Minaudo were not far behind with an 8-2 victory at three doubles. Kayle Sexton and Sam Setterblad had a tough go at one doubles as the pair fell by an 8-3 score.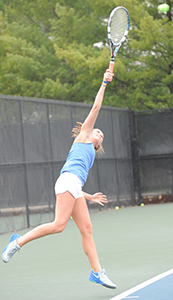 Shannon Elliott helped clinch
the team's win over Trine with
wins in both doubles and
singles.The team, however, took little time to secure the victory once singles play began. Kayle Sexton was the first player off with a 6-1, 6-2 win at two singles. Andrea Fetters followed suit with a 6-2, 6-4 win at one singles. Margaret Faller fell by a 6-4, 6-2 score at five singles to make the overall team score 4-2 in favor of the Belles. Shannon Elliott clinched the win with a 6-3, 6-3 victory at four singles. Jackie Kjolhede and Bailey Oppman added to the team's winning margin with 6-0, 6-2 and 6-0, 6-3 decisions at three and six singles, respectively.
The Belles (8-7, 3-1 MIAA) return to action tomorrow afternoon when they take on cross-town rival Bethel at the South Bend Racquet Club starting at 3:30 p.m.
Saint Mary's College 7, Trine 2
Singles competition
1. Andrea Fetters (SMC) def. Erin Kwaske (TRINEW) 6-2, 6-4
2. Kayle Sexton (SMC) def. Lexi Mack (TRINEW) 6-1, 6-2
3. Jackie Kjolhede (SMC) def. Marissa German (TRINEW) 6-0, 6-2
4. Shannon Elliott (SMC) def. Tarah Brennan (TRINEW) 6-3, 6-3
5. Madison Hatkevich (TRINEW) def. Margaret Faller (SMC) 6-4, 6-2
6. Bailey Oppman (SMC) def. Chelsea Ort (TRINEW) 6-0, 6-3
Doubles competition
1. Erin Kwaske/Lexi Mack (TRINEW) def. Kayle Sexton/Sam Setterblad (SMC) 8-3
2. Andrea Fetters/Shannon Elliott (SMC) def. Marissa German/Tarah Brennan (TRINEW) 8-1
3. Margaret Faller/Maddie Minaudo (SMC) def. Madison Hatkevich/Kinnsey Pass (TRINEW) 8-2