Belles Downed by Thunder in Florida Finale
SANLANDO, Fla. - The Saint Mary's tennis team lost a 6-3 match to #15 regionally-ranked Wheaton on Friday afternoon to conclude their trip to Florida.
Andrea Fetters and Shannon Elliott teamed up for an 8-5 win at the two doubles flight. Sam Setterblad and Maddie Minaudo lost 8-4 at three doubles, and Kayle Sexton and Margaret Faller fell short at one doubles by an 8-2 score against a Wheaton pair who has been regionally-ranked.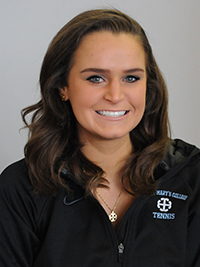 Margaret Faller won 7-5, 6-4
at five singles.Margaret Faller edged out her Wheaton counterpart by a tight 7-5, 6-4 score at five singles. Bailey Oppman had to go to a super tibreaker before battling her way to a 7-5, 4-6, 1-0 (10-3) win at six singles for the Belles.
Andrea Fetters played right with Julie Buursma, who has been ranked among the region's top players, before getting edged out 7-5 in the first set and 6-2 in the second set. Kayle Sexton was on the wrong side of a 6-0, 6-0 final at two singles. Jackie Kjolhede fell by 6-2, 6-3 scores at three singles, and Shannon Elliott came out on the short end of a 6-1, 6-2 final at four singles.
The Belles are back in action on Saturday, March 21 in a conference match against Alma starting at 1:00 p.m.
#15 (Regional) Wheaton (Ill.) 6, Saint Mary's College 3
Singles competition
1. Buursma, Julie (WHEATON) def. Andrea Fetters (SMC) 7-5, 6-2
2. Park, Katie (WHEATON) def. Kayle Sexton (SMC) 6-0, 6-0
3. Schlabach, Lauren (WHEATON) def. Jackie Kjolhede (SMC) 6-2, 6-3
4. White, Kirstie (WHEATON) def. Shannon Elliott (SMC) 6-1, 6-2
5. Margaret Faller (SMC) def. Kay, Miranda (WHEATON) 7-5, 6-4
6. Bailey Oppman (SMC) def. Nelson, Erika (WHEATON) 7-5, 4-6, 1-0 (10-3)
Doubles competition
1. Buursma, Julie/Park, Katie (WHEATON) def. Kayle Sexton/Margaret Faller (SMC) 8-2
2. Andrea Fetters/Shannon Elliott (SMC) def. Schlabach, Lauren/Nelson, Erika (WHEATON) 8-5
3. White, Kirstie/Kay, Miranda (WHEATON) def. Sam Setterblad/Maddie Minaudo (SMC) 8-4