Belles Think Pink, Sink Comets
Box Score

NOTRE DAME, Ind. - On their annual Dig for the Cure night, the Saint Mary's volleyball team swept conference foe Olivet 3-0 (25-15, 25-18, 25-15) Wednesday.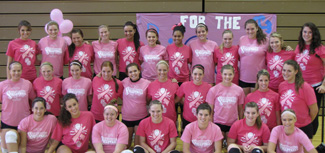 Both teams pose for a photo before Wednesday's Dig for
the Cure match.The Belles had a pair of four-point runs followed up by a five-point spurt to stretch their lead from a single point to 14-5. Each time the visiting Comets attempted to edge their way back into the opening set, Saint Mary's came through with a response as they only surrendered one or two consecutive points to Olivet down the stretch. Aided by a .394 team hitting percentage, Saint Mary's set the tone by taking the opener 25-15 in speedy fashion.

A refocused Olivet team came out of the mid-set break, keeping the set close early. The Belles and Comets traded blows out of the gate as the second set featured eight ties between the teams. With the score knotted at 10, the Belles used a pair of Olivet miscues to take the lead by two. Olivet got within a point of the Saint Mary's lead twice after that point, but the Belles never surrendered the lead and pulled ahead with four consecutive points before taking the set, 25-18.

After mounting a quick four-point lead in the third set, Saint Mary's saw Olivet get within a point at 9-8. The Belles, however, went on to out-score the Comets 16-7 in the set for the 25-15 decision and the straight-set victory.

Each member of the Saint Mary's squad saw playing time in the win while also making contributions to the Belles' victory.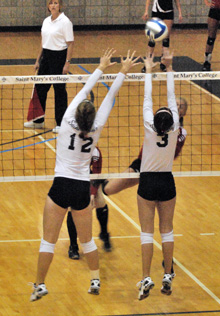 Allison Zandarski (12) and Taylor Etzell
(3) go up for a block on Wednesday
evening.Seven players hit above .300 for Saint Mary's in the win with five of those Belles having more than five attack attempts. Leading the way offensively was junior Stephanie Bodien, who hit .500 with 11 kills on 22 attempts and no errors. Classmate Allison Zandarski was tough to stop as well as she notched nine kills and three block assists. Meghann Rose had a match-high 10 digs for Saint Mary's. Danie Brink, meanwhile, moved into third place all-time in career assists with 30 helpers on the night.

Saint Mary's (7-9, 5-6 MIAA) will take a break from MIAA play as they travel to Wisconsin-Oshkosh for a weekend tournament. The Belles open the tournament against the host Titans on Friday beginning at 5:30 p.m. CST.