Belles Tame Bulldogs
Box Score

NOTRE DAME, Ind. - The Saint Mary's volleyball team overpowered Adrian on their way to a 3-1 (25-16, 19-25, 25-19, 25-12) conference win on Wednesday night.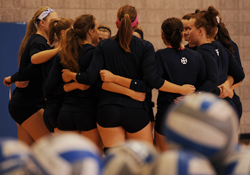 The Belles huddle up prior to their 3-1 win
over Adrian.The Belles turned an 8-6 lead in the first set into a 17-9 advantage on a combination of big kills on offense and aces. Katie Hecklinski put the exclamation point on the set for Saint Mary's with back-to-back kills to end the first frame, including a kill on an overpass for the final point of the set. The offense was nearly unstoppable in the opening set as the Belles hit .382 with 15 kills and just two errors on 34 attempts.

The second set saw the offensive tide turn on the Belles as the visiting Bulldogs posted a .346 attack percentage with 13 kills, four errors, and 34 attempts. Adrian used a seven-point run midway through the set to turn a 9-7 deficit into a 14-9 lead. Saint Mary's would be unable to get within fewer than four points in the set as the Bulldogs squared the match at one set apiece.

In the third, the Belles stormed out to a 6-1 lead and never looked back as Saint Mary's led by at least five points throughout the remainder of the set. The Belles notched five aces, including back-to-back aces by Samantha Grady, on their way to taking the upper hand in the match.

With the fourth set tied 4-4, the Belles rattled off six straight points for a 10-4 lead. The teams traded points until Melanie Kuczek put away a one-handed set by Danie Brink in resounding fashion to give the Belles full command of the momentum and the match. Saint Mary's scored the next three points in-a-row to take an 18-9 lead and the Bulldogs were unable to get more than a single point at a time as the Belles took the fourth 25-12.

The one-two outside attack of Katie Hecklinski and Kati Schneider paced the offense on the night for Saint Mary's. Hecklinski had a match-high 17 kills and a team-best 11 digs for her second double-double of the season. Schneider added 14 kills and four aces on the night for the Belles. Melanie Kuczek added nine kills, and Taylor Etzell hit .429 with eight kills for Saint Mary's. Danie Brink posted 48 assists for her first 40+ assist effort of the season while surpassing the 2,500 career assist mark.
Off to their best start since the 2006 season, the Belles (6-1, 2-1 MIAA) will have a break from conference play as they travel to Kenosha, Wisconsin, for a two-day tournament at Carthage College on Friday and Saturday.