Belles Bounce Brits
Box Score

NOTRE DAME, Ind. - The Saint Mary's volleyball team picked up a solid 3-0 (25-18, 25-22, 25-18) win over Albion on the team's "Crush for the Cure" night.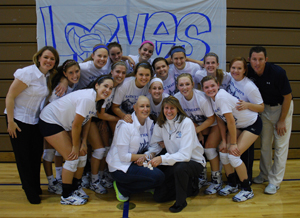 The volleyball team and athletic director Julie
Schroeder-Biek pose with Anne Blair Payne '02 before
the match.The team gathered pledges and donations to help South Bend native and Saint Mary's alumna Anne Blair Payne '02 and her battle against lymphoma.

In the opening set of the night, the Belles broke a 6-6 tie with back-to-back kills by Melanie Kuczek and Kati Schneider for the first multiple point lead of the contest. The Belles were able to double that lead on a block by Taylor Etzell and Katie Hecklinski. The Brits won four points in-a-row to pull within 15-14, but Kuczek and Schneider again notched consecutive kills as the Belles would lead by at least three points for the remainder of the first set.

The Belles battled back after trailing 17-13 in the third set by chipping away at the Brits. Saint Mary's was able to stay within a few points of Albion late in the set. Behind 21-19, the Belles got a kill by Taylor Etzell and a block by Abby White and Melanie Kuczek to knot the score at 21-21. Katie Hecklinski picked up a big kill, and Samantha Grady picked up a kill on a point where the Belles did not give up on the play. The Belles then closed out the second set comeback with a Kuczek kill and a Hecklinski ace for the 25-22 decision.

Saint Mary's used a four-point run early and a seven-point spurt late to secure the win. Up 16-15 in the third, the Belles notched three kills and three aces while benefiting from an Albion attack error.

Leading the way offensively for Saint Mary's were Melanie Kuczek and Kati Schneider. Kuczek hit .692 with nine kills on just 13 attempts with no errors while adding four aces. Schneider led all players in the match with 15 kills and narrowly missed a double-double with nine digs. Katie Hecklinski had match-high honors with 11 digs along with nine kills on the night. Abby White notched 34 assists to help the Belles to the straight-set win. Meredith Mersits and Samantha Grady each added nine digs with Grady tallying four aces on the night.

The Belles (11-9, 6-4 MIAA) will have a break from play and will next be in action when they travel to Adrian on Tuesday, October 16 for a 7:00 p.m. MIAA match against the Bulldogs.