Belles Sweep Scots
Box Score

ALMA, Mich. - The Saint Mary's volleyball team powered their way to a 3-0 (25-21, 25-20, 25-19) win at Alma on Wednesday night.

The Belles took the lead off the bat in the first set on the night and never gave it up. The Scots battled their way back to 13-12, but Saint Mary's took nine of the next 10 points to go up 22-13 on their way to the opening set win.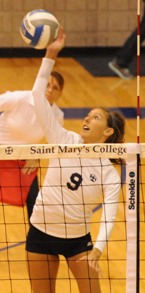 Katie Hecklinski had 12 kills
and a match-high 24 digs.Alma came out ready to square the match at one set apiece by claiming a 9-5 lead. Saint Mary's tied the match at 10-10, 11-11, and 12-12 before making a few short runs to take a 20-16 advantage. Three kills by Katie Hecklinski helped the Belles push their lead to 24-18 before taking the second set.

With the third set tied at 8-8, the Belles picked up points on back-to-back attack errors, an ace, and another Hecklinski kill for a 12-8 lead. Saint Mary's would not trail for the remainder of the set. The Belles took over control of the third set by turning a 17-13 lead into a 20-13 cushion on their way to the three-set sweep.

The Belles had 48 kills to Alma's 26 and 91 digs to the Scots' 77 on the night.

Kati Schneider had a match-best 17 kills to go along with 16 digs. Katie Hecklinski led all players with 24 digs while chipping in 12 kills for the Belles. Danie Brink also added a double-double on the night with 34 assists and 12 digs. Melanie Kuczek tallied 11 kills, Samantha Grady had 19 digs, and Meredith Mersits added 14 digs.

The Belles (13-12, 7-7 MIAA) will travel to No. 2 Calvin on Friday for a 7:00 p.m. match against the Knights.