Belles Fall to Conference Champion Knights
Box Score

GRAND RAPIDS, Mich. - The Saint Mary's volleyball team lost a 3-0 (25-10, 25-20, 25-16) match to No. 2 ranked conference champion Calvin on Friday night.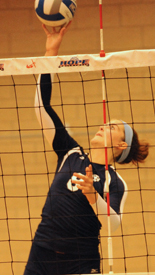 Kati Schneider led all players
with 12 kills.In the battle that was the second set, Saint Mary's had a three-point run to take a 6-3 advantage. The set was tied at the six, seven, and eight point marks before Calvin claimed their first lead since 1-0 in the set. The Knights went up 19-14 by winning back-to-back points, but the Belles continued their persistence to edge within 20-19. Calvin used a quick spurt to distance themselves just enough for the 25-20 win in the set.

Kati Schneider led all players with 12 kills on the night while hitting .417 in the match. Melanie Kuczek added seven kills and a team-best three aces. Danie Brink notched 24 assists, and Katie Hecklinski led the Belles with nine digs.

The Belles (13-13, 7-8 MIAA) will host their final two contests of the regular season schedule on Saturday as they take on No. 5 Hope at noon and non-conference foe Wheaton at 4:00 p.m.