Belles Big in Season Finales
Hope Box Score - Wheaton Box Score

NOTRE DAME, Ind. - The Saint Mary's volleyball team had a solid day in their final two matches of the 2012 season. The Belles challenged No. 5 Hope in a 3-1 loss to the Flying Dutch but bounced back with a 3-0 win over Wheaton (Ill.) on Saturday.

Saint Mary's came out swinging against the fifth-ranked Flying Dutch. Hope established a pair of four-point leads at 13-9 and 15-11 in the first set, but the Belles persevered and chipped away at the lead. Trailing 23-21, Kati Schneider had three consecutive kills to give the Belles the momentum late in the set. Saint Mary's then claimed the opening set on an attack error as the Belles won seven of the last 10 points. Saint Mary's posted a .342 hitting percentage.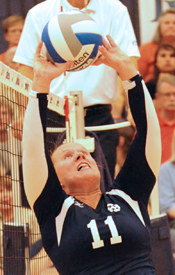 Danie Brink finished her career
second in all-time assists.While the first set had fans biting their nails, the second set provided an even more electric atmosphere in Angela Athletic Facility. The Belles fought their way back from a 12-7 deficit to knot the score at 13-13, 14-14, and 15-15. The set was tied again at the 16, 17, and 18-point marks as well as every point interval from 20 to 30 as both teams fought tooth-and-nail for more than a point's worth of wiggle room. Ultimately, Hope used three consecutive kills for the 32-30 set win.

Saint Mary's continued to hold their ground against Hope, but the Flying Dutch claimed the four-set win (23-25, 32-30, 25-22, 25-17).

Kati Schneider had a match-high 18 kills to go along with 14 digs and a pair of aces. Melanie Kuczek hit .444 with 15 kills and two block assists. Katie Hecklinski added 10 kills and 14 digs for Saint Mary's, and Danie Brink had 39 assists. Meredith Mersits led the Belles with 15 digs.

The Belles then scraped their way to a three-set win in their season finale against Wheaton 25-23, 25-23, 25-21. In the third set, the Belles closed out the win with five straight points to go from trailing 21-20 to taking the 25-21 decision.

Melanie Kuczek continued to have a big day with 18 kills with a .433 attack percentage. Kati Schneider and Katie Hecklinski had matching stat lines of 11 kills and 13 digs. Meredith Mersits shared match-high honors with 17 digs. Danie Brink had 40 assists in the final game of her career for the Belles. She finished second all-time in program history with 3,170 career assists.

The Belles finish the season 14-14, which marks the most wins in a season for head coach Toni Kuschel in her time at Saint Mary's.