Schneider Garners All-MIAA First Team Honor
ROYAL OAK, Mich. - Saint Mary's sophomore outside hitter Kati Schneider (East Sparta, Ohio/Canton South) was one of only eight players in the Michigan Intercollegiate Athletic Association to be named to the all-conference first team in volleyball.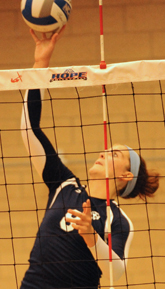 Schneider had a big season for the Belles in 2012. She was third in the league in total kills in league-only statistics. A two-time MIAA Position Player of the Week this fall, she led the team with 353 total kills on the season. Of those kills, 216 came against conference opponents. She increased her number of kills and digs by more than 100 in each category compared to a season ago for Saint Mary's.
It is the first postseason All-MIAA honor for Schneider. She becomes the first Saint Mary's volleyball player to be named to the All-MIAA First Team since 2009. Moreover, she is the fifth player in program history to be named to the all-conference first team for the Belles.
Most Valuable Player
Lizzie Kamp, Calvin (senior from Orland Park, Ill./Chicago Christian HS)
Freshman of the Year
Maggie Kamp, Calvin (freshman from Orland Park, Ill./Chicago Christian HS)
Defensive Player of the Year
Jessica Maier, Hope (senior from Grandville/Jenison HS)
All-MIAA First Team
Greer Bratschie, Hope*** (senior from Grand Rapids/East Grand Rapids HS)
Jenna Grasmeyer, Hope** (sophomore from Hudsonville/Unity Christian HS)
Julia Hilbrands, Calvin* (senior from Grand Rapids/GR Christian HS)
Betsy Irwin, Trine*** (senior from Athens, Ohio/Alexander HS)
Lizzie Kamp, Calvin*** (senior from Orland Park, Ill./Chicago Christian HS)
Megan Rietema, Calvin*** (junior from Grand Rapids/GR Christian HS)
Kati Schneider, Saint Mary's* (sophomore from East Sparta, Ohio/Canton South HS)
Mari Schoolmaster, Hope* (junior from Portage/Portage Central HS)
* - number of years All-MIAA First Team
All-MIAA Second Team
Jordan Brisson, Adrian (freshman from Waterford/Kettering HS)
Emily Crowe, Calvin (sophomore from Granger, Ind./Mishawaka Penn HS)
Alex Gothard, Kalamazoo (sophomore from Bloomfield Hills/Birmingham Seaholm HS)
Maggie Kamp, Calvin (freshman from Orland Park, Ill./Chicago Christian HS)
Lea Klooster, Alma (junior from Jenison/Jenison HS)
Jessica Maier, Hope (senior from Grandville/Jenison HS)
Carly Searles, Trine (sophomore from Levering/Petoskey HS)
Rebecca Trosper, Alma (junior from Plano, Tex./Macomb Lutheran North HS)