Belles Bounce Brits
NOTRE DAME, Ind. - The Saint Mary's volleyball team picked up their first MIAA win of the season with a 3-1, (28-26, 26-28, 25-22, 25-16) victory over Albion on Friday night.
The score was tied on 16 occasions as both teams had opportunities to take the opening set. The Brits were able to establish a three-point lead at 10-7, 18-15, and 20-17 for the biggest advantage either team held in the first set. Each time, the Belles edged their way back into the thick of things. With the score knotted at 26-26, Kati Schneider and Katie Hecklinski tallied consecutive kills to give Saint Mary's the early lead with the first set win.
The Belles appeared to be poised to take a 2-0 lead as Saint Mary's held a 24-19 advantage over Albion. The Brits went on a tear to force some attack errors on the part of the Belles and win six straight points to go up 25-24. After the teams traded points, the Brits completed the comeback in the set with a 28-26 win.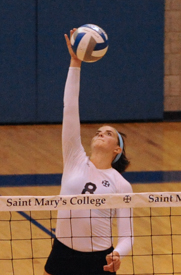 Kati Schneider had 24 kills and
21 digs for her first career
20-20 match.Saint Mary's regained the edge in the third set. The Belles broke a 17-17 tie and never trailed again on their way to a 25-22 decision to lead two sets to one. In the fourth set, Saint Mary's again broke a 12-12 tie and did not look back. After establishing a 17-13 lead, the Belles led by at least four points down the stretch en route to the four-set victory.
Kati Schneider had the first 20-20 match of her career with a match-high 24 kills while adding 21 digs. Katie Hecklinski notched a double-double of her own with 13 kills and a team-best 29 digs. Melanie Kuczek chipped in 16 kills, Clare McMillan had her second consecutive 50+ assist match with 58, and Meredith Mersits and Samantha Grady added double-digit dig efforts with 19 and 17, respectively.
The Belles (2-4, 1-1 MIAA) have a quick turnaround for their next conference match as they travel to Alma for a 1:00 p.m. contest against the Scots.