Schneider and Hecklinski Named All-MIAA
ROYAL OAK, Mich. - Saint Mary's volleyball players Kati Schneider and Katie Hecklinski were both named All-MIAA as voted upon by league coaches this weekend. For the second straight year, Schneider was tabbed as an All-MIAA First Team honoree while Hecklinski earned a spot on the All-MIAA Second Team.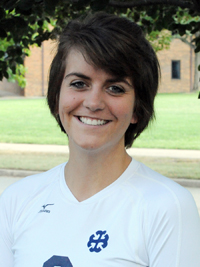 Schneider posted an even stronger season this year than she did after being named to the all-conference first team a year ago. The junior outside hitter led the conference in total number of kills in league-only contests with 270. An MIAA Player of the Week in week three of the season, she was second in the MIAA in kills per set by averaging 4.22 kills against conference competitors. She was also one of just ten players to tally at least 200 digs in conference matches. She posted 12 double-doubles (kills-digs) in 16 conference matches. In a win at Olivet, she tied the MIAA record for kills in a four-set match with 31.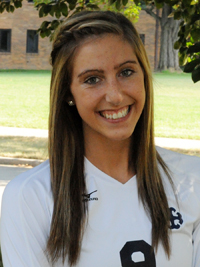 Hecklinski also had stand-out sophomore season. The week six MIAA Player of the Week, she was sixth among all players in the league in total kills in conference competition in 2013 with 191 kills. She was also sixth in kills per set average in MIAA matches on the year by producing 2.98 kills per set. An outside hitter, Hecklinski was fifth in total digs in conference matches with 253, which was the highest number of digs among non-libero/defensive specialists in the MIAA. She finished the season with 11 double-doubles out of a possible 16 conference matches.
Schneider becomes the first back-to-back All-MIAA First Team honoree for the Belles since Agnes Bill (1998, 1999). With both Hecklinski and Schneider earning all-league honors, it is the first time since the 2008 season that multiple Saint Mary's volleyball players have earned all-conference accolades.
Most Valuable Player
Megan Rietema, Calvin
(senior from Grand Rapids/GR Christian HS)
Defensive Player of the Year
Kristen Zietse, Calvin
(senior from Grand Rapids/GR Christian HS)
Freshman of the Year
Laura Danhoff, Calvin
(freshman from Willard, Ohio/Willard HS)
All-MIAA First Team
Megan Rietema, Calvin**** (senior from Grand Rapids/GR Christian HS)
Maggie Kamp, Calvin* (sophomore from Orland Park, Ill./Chicago Christian HS)
Jenna Grasmeyer, Hope*** (junior from Jenison/Hudsonville Unity Christian HS)
Courtney Earles, Hope* (senior from Kentwood/East Kentwood HS)
Lauren Hazekamp, Hope* (sophomore from Fruitport/Fruitport HS)
Kati Schneider, Saint Mary's** (junior from East Sparta, Ohio/Canton South HS)
Lea Klooster, Alma* (senior from Jenison/Jenison HS)
Kristen Zietse, Calvin* (senior from Grand Rapids/GR Christian HS)
All-MIAA Second Team
Mari Schoolmaster, Hope (senior from Portage/Portage Central HS)
Laura Danhoff, Calvin (freshman from Willard, Ohio/Willard HS)
Carly Searles, Trine (junior from Levering/Petoskey HS)
Logan Horejsi, Kalamazoo (freshman from White Lake/Farmington Hills Mercy HS)
Emily Crowe, Calvin (junior from Granger, Ind./Mishawaka Penn HS)
Emma Braun, Olivet (junior from Ann Arbor/Pioneer HS)
Amy VanderStoep, Hope (junior from Holland/West Ottawa HS)
Katie Hecklinski, Saint Mary's (sophomore from South Bend, Ind./St. Joseph HS)