Belles Squad Picks Up Team Academic Honor
LEXINGTON, Ky. - The Saint Mary's volleyball team was one of 676 teams from high schools, junior colleges, colleges, and universities across the country to earn the Team Academic Award from the American Volleyball Coaches Association (AVCA) for the 2013-14 academic year.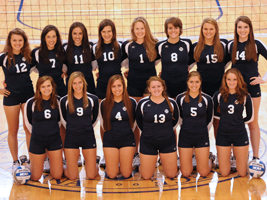 The award, which was initiated in the 1992-93 academic year, honors collegiate and high school volleyball teams that displayed excellence in the classroom during the school year by maintaining at least a 3.30 cumulative team grade-point average on a 4.0 scale or a 4.10 cumulative team GPA on a 5.0 scale.
The Belles posted a 3.520 cumulative GPA for the 2013-14 academic year as the team joined 126 NCAA Division III institutions on the list of honorees. Earlier this summer, the volleyball team picked up MIAA Team GPA Award honors as well.
"We are excited to be recognized once again by the AVCA with this award," said head coach Toni Elyea. "I am so proud of our team and the commitment they have shown to their academic excellence. The Saint Mary's volleyball program is proud to be part of a conference that values success in the classroom as much as success on the court."
Saint Mary's was one of eight MIAA members to earn AVCA Team Academic Award honors for the 2013-14 season.
For the full list of 2013-14 AVCA Team Academic Award recipients, click here.