Belles Defeated by No. 2 Knights
GRAND RAPIDS, Mich. - Playing their second No. 2 team in the country in as many matches, the Saint Mary's volleyball team lost a 3-0 (25-14, 25-7, 25-16) contest at Calvin on Wednesday evening.
In the third set, the Belles went on a four-point run to turn a 15-7 contest into a 15-11 affair. The Knights, however, responded by extending their lead to 21-13 before ending the match with the sweep.
The Knights, who moved down to No. 2 in the nation after a five-set match at now top-ranked Hope last Friday, hit .414 in the match with 45 kills and nine errors on 87 attempts. The Belles posted a .035 attack percentage with 18 kills and 15 errors on 85 attempts.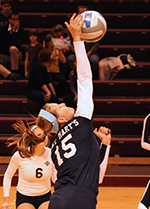 Meaghan Gibbons hit .308
against Calvin.Kati Schneider led the Belles with seven kills. Meaghan Gibbons had a .308 attack percentage with four kills, no errors, and 13 attempts. Katie Hecklinski also added four kills for Saint Mary's while leading the team with eight digs. Clare McMillan had 10 assists in the match.
Saint Mary's (9-14, 7-8 MIAA) has a break from conference play this weekend as they travel to New York to take on Hunter College and Montclair State University on Saturday, October 26.