Belles Topped by No. 2 Flying Dutch
NOTRE DAME, Ind. - The Saint Mary's volleyball team was swept at home by second-ranked Hope by 25-19, 25-14, 25-18 scores on Saturday afternoon.
In the first set, the Belles went on a 8-1 run late to cut the Hope lead to 21-17. Katie Hecklinski had three consecutive service aces, Clare McMillan added an ace, and Melanie Kuczek had a kill all during that run to get the Belles within four points of the Flying Dutch. Hope, however, closed out the set with four kills out of the next six points played for the 25-19 decision.
Hope broke open the second set by breaking a 6-6 tie with eight of the next ten points for a 16-8 lead. The Flying Dutch were held to their lowest hitting percentage of the match with a .220 (11 kills, two errors, 41 attempts), but Hope also forced the Belles into their lowest attack percentage in the same set (11 kills, 12 errors, 55 attempts) with a -.018.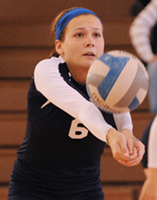 Meredith Mersits had 13 digs
for the Belles against Hope.The Flying Dutch started off the third set with a 7-2 lead and held at least a four-point advantage over the Belles for the entire set. Saint Mary's used a late four-point spurt to pull within 23-18 on a kill and ace by Hecklinski and back-to-back kills by Kati Schneider, but the deficit was too much to overcome as Hope claimed the sweep with a 25-18 third set win.
Katie Hecklinski and Kati Schneider each had double-doubles for the Belles. Hecklinski had a team-best 12 kills with 13 digs, and Schneider posted 11 kills and a team-high 15 digs. Melanie Kuczek added five kills to surpass 200 kills on the season. Hecklinski, Schneider, and Kuczek have each notched 200+ kills for the second consecutive season. The last time the Belles had a trio of players surpass 200 kills in back-to-back seasons were the 2007-08 and 2008-09 seasons (Kaela Hellman, Cathy Kurczak, and Lorna Slupczynski).
Clare McMillan added 30 assists in the loss. Meredith Mersits had her twelfth consecutive match with at least 10 digs as she tallied 13 digs for the Belles.
Saint Mary's (9-13, 7-7 MIAA) returns to action on Wednesday, October 23 when they travel to top-ranked Calvin for a 6:00 p.m. match against the Knights.