Belles Swept by No. 2 Knights
GRAND RAPIDS, Mich. - The Saint Mary's volleyball team ended their season with a 3-0 (25-11, 25-15, 25-20) loss against second-ranked Calvin on Friday night in the MIAA Tournament Semifinals.
In the closely-played and highly competitive third set, the teams traded big plays back and forth. Each time the Knights attempted to pull away from the Belles, Saint Mary's edged their way right back into the thick of things. The Belles used a three-point spurt to pull within 14-13. After the Knights won the next two points, Saint Mary's took the next four points in-a-row while forcing Calvin into calling a timeout on their way to a 17-15 lead.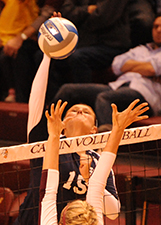 Meaghan Gibbons led the
Belles in kills, digs, and blocks.With the set tied up at 18-18, the Knights took back the lead with three consecutive points. The Belles got back within a point of the lead at 21-20 on back-to-back kills by Lexi Grady and Katie Hecklinski, but Calvin closed out the set and the match with four unanswered points for the 25-20 decision.
Meaghan Gibbons led the Belles with nine kills, seven digs, and two block assists. Melanie Kuczek added five kills and a block assist. Clare McMillan posted 15 assists for the Belles. Katie Hecklinski and Meredith Mersits each chipped in six digs.
The Belles end their season with a 12-15 overall record while making the MIAA Tournament for the first time in its current top-four team only format.