Belles Prevail in New York
Montclair State Box Score - Hunter Box Score
NEW YORK, N.Y. - The Saint Mary's volleyball team picked up a pair of non-conference wins in the Big Apple with a 3-0 (25-20, 25-12, 25-17) victory over Montclair State and a 3-1 (25-15, 25-21, 23-25, 25-15) decision over host Hunter.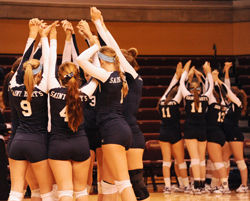 In the Belles' first match of the day against Montclair State, Katie Hecklinski led the way with 10 kills while sharing team-high honors with 14 digs in the win. Melanie Kuczek hit .467 with nine kills and three blocks, and Kati Schneider added eight kills and 14 digs. Colleen Kilgallon had seven kills and two errors on 12 attempts for a .417 hitting percentage, and Meaghan Gibbons had six kills on only eight attempts for a .750 attack percentage. The Belles hit .252 for the match while limiting the Red Hawks to a -.037 attack percentage.
Meredith Mersits added 10 digs. Clare McMillan registered 31 assists, and Carolyn Schafer added 10 assists in the team's tenth victory of the season.
Hecklinski led the way once again in the Belles' second match as the sophomore posted 15 kills and 16 digs for her 14th double-double of the season in a four-set win over Hunter. Schneider also tallied 15 kills while chipping in eight digs. Kuczek posted nine kills and a match-high seven blocks, which included six solo block efforts. McMillan led all players with 43 assists. Samantha Grady notched 15 digs, and Meredith Mersits added 11 digs for the Belles against the Hawks.
The Belles (11-14, 7-8 MIAA) return home to host Adrian in the regular season finale on Friday, November 1 at 7:00 p.m. with a spot in the MIAA Tournament on the line.