Belles Rally Back to Extinguish Comets
NOTRE DAME, Ind. - Trailing 2-0, the Saint Mary's volleyball team fought their way back to win a 3-2 (20-25, 21-25, 25-19, 25-23, 15-10) match over conference foe Olivet on Tuesday night. It was also the Belles' fourth consecutive conference win.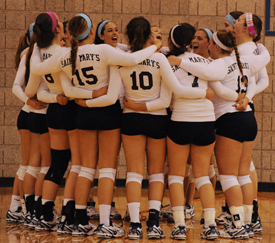 After winning the first two sets, Olivet appeared to be poised to take the match in a three-set sweep as they jumped out to a 10-5 lead in the third. The two teams traded points to see the Comets go up 11-6 when the tides began to turn. Saint Mary's went on a five-point run to erase the deficit and square the set at 11-11. Olivet came back with back-to-back points, but the Belles responded with a seven-point spurt to take an 18-13 lead. The Comets were able to chip away and pull within 20-19, but Saint Mary's put the set away with five straight points.
The fourth set saw neither team hold more than a four-point lead. That advantage was held by Olivet after a four-point run by the Comets put them ahead 17-13. The Belles sent the set to its seventh tie at 18-18. Each time Olivet took a point, Saint Mary's came right back to tie it at 19-19, 20-20, and 21-21. Late in the set, the Comets tied things up at 23-23. After an attack error by Olivet put Saint Mary's up set point, the Belles finished off the set with a block by Meaghan Gibbons and Melanie Kuczek to force the fifth set.
Saint Mary's came out in the fifth set to snag a 4-2 lead only to see the Comets respond with four consecutive points to go up 6-4. Determined to complete the comeback, the Belles won seven of the next eight points to lead 11-7 and squarely take control of the set. The teams traded points before the Belles went up set point on a kill by Katie Hecklinski and a solo block by Taylor Etzell. The Comets made a late effort to keep the match alive, but Saint Mary's prevailed in the fifth set by a 15-10 score to win the match.
Kati Schneider led all players with 21 kills and added 13 digs. Katie Hecklinski posted 17 kills and 15 digs. Melanie Kuczek put away 12 kills and tallied a career-high eight blocks. Meredith Mersits led all players in the match with 24 digs. Clare McMillan notched 46 assists.
The Belles (9-11, 7-5 MIAA) travel to in-state MIAA rival Trine on Friday, October 18 for a 7:00 p.m. contest against the Thunder.