Belles Down Brits in Four Sets
ALBION, Mich. - The Saint Mary's volleyball team took a 3-1 (25-15, 25-20, 27-29, 25-14) win against Albion on Wednesday evening.
After establishing early leads on the way to wins in the first two sets, the Belles had to play from behind throughout the third set. Trailing 10-3, Saint Mary's continued to battle their way back into the set. With Albion leading 20-14, the Belles made a huge push to keep the set interesting.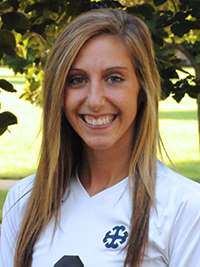 Katie Hecklinski had a match-high
16 kills on Wednesday.Saint Mary's won six of the next seven points to pull within 21-20. Playing from behind, the Belles drew even at 22-22 and 23-23 and fought off set point to tie the set at 24-24. A kill then put Saint Mary's a point away from ending the match at 25-24, but it was the Brits' turn to keep the set and the match alive. Albion then put up a block to make it 26-25 in favor of the Brits. A service error followed up by another Saint Mary's kill shifted the momentum yet again as the Belles traded roles and pulled ahead 27-26. Albion, however, capitalized on a missed serve and closed out the set with a kill and a block to force a fourth set.
The Belles jumped into the driver's seat early in the fourth and stormed out to a 17-7 lead that was too much for the Brits to overcome. Saint Mary's held at least a nine-point lead over the remainder of the fourth and clinched the win with a 25-14 victory in the set.
Katie Hecklinski led all players with 16 kills while adding 10 digs. Melanie Kuczek had nine kills and three blocks, and Kati Schneider also chipped in nine kills along with 17 digs. Meaghan Gibbons led the Belles with 22 digs on the night as Samantha Grady also had double-digit digs with 12. Clare McMillan posted a double-double with 25 assists and 10 digs while recording four aces, and Lexi Grady tallied 22 assists in the win.
The Belles (9-8, 6-5 MIAA) have a break from conference play this weekend as they travel to the Elmhurst Invitational on Friday and Saturday. Saint Mary's opens the tournament with St. Olaf and Simpson on Friday night at 6:00 p.m. and 8:00 p.m. CDT, respectively.