Belles Bounce Brits
NOTRE DAME, Ind. - The Saint Mary's volleyball team held off visiting Albion for a 3-0, (25-19, 25-22, 25-14) conference win at home on Saturday.
After falling behind in the opening set 14-11, the Belles steadily chipped away at the Albion lead before drawing even at 15-15 and 16-16. Saint Mary's broke the latter of those two ties with four points in-a-row to establish their largest lead of the set to that point at 20-16. The Brits took the next two points, but a four-point run by the Belles made it a 24-18 score as Saint Mary's went on to take the 25-19 first set decision.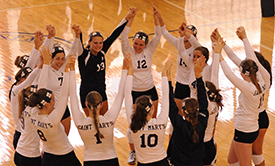 The Belles celebrate their 3-0 win over Albion.The second set started in much of the same way as the first set as eight early ties yielded a 9-9 score through the first 18 points played. A few points later, the Brits posted their largest run of the match with a five-point spurt to pull ahead 18-13. After a timeout by the Belles, Saint Mary's responded with a momentum-shifting eight-point run to turn that five-point deficit into a 21-18 lead. Albion pulled within two points of the Saint Mary's lead at 21-19, 22-20, 23-21, and 24-22, but the Belles' advantage was too much to overcome as Saint Mary's claimed the second set 25-22.
The momentum from the comeback in the second set spilled over into the third set for the Belles. Ahead 5-4 early, Saint Mary's scored 11 of the next 14 points for a commanding 16-7 lead. A five-point spurt by the Brits edged Albion back within five points at 18-13, but the Belles' blocking came up big over the final points of the set as Saint Mary's clinched the straight-set win with a 25-14 third set.
Seven different players had at least three kills for the Belles in the win led by Katie Hecklinski's seven. Meaghan Gibbons led all players with 15 digs, and Samantha Grady added 11 digs of her own. Lexi Grady tallied 16 assists while Clare McMillan notched 10 helpers on the day. Melanie Kuczek had six blocks as nine different Belles had at least one block assist.
The Belles (3-4, 2-1 MIAA) continue their home stand on Wednesday, September 10 when they host in-state conference rival Trine for a 7:00 p.m. match.