Belles Split Results at Day Two of Elmhurst Invitational
Bethany Box Score - Eau Claire Box Score
ELMHURST, Ill. - The Saint Mary's volleyball team avenged a loss earlier in the season by defeating Bethany in four sets (25-17, 19-25, 25-22, 25-18) before falling in a five-set match to Wisconsin-Eau Claire (22-25, 25-16, 22-25, 25-18, 25-7) at day two of the Elmhurst Invitational.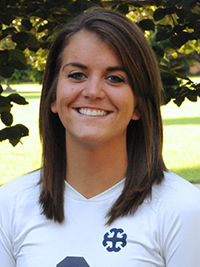 Kati Schneider was named to the
all-tournament team at Elmhurst.In the four-set win against, Kati Schneider led the Belles with 15 kills while tallying 11 digs. Katie Hecklinski added 11 kills and 12 digs, and Clare McMillan joined the two outside hitters with a double-double of her own with 43 assists and 10 digs. Melanie Kuczek posted a double-digit kill effort with 12 against Bethany, and Meaghan Gibbons led the Belles with six aces and 17 digs in the victory.
In the tournament finale for the Belles, Hecklinski paced Saint Mary's with 14 kills and 20 digs for her second double-double of the day. Schneider was not far behind with 13 kills and 18 digs. Gibbons matched Schneider's dig output with 18 digs. McMillan added 44 assists and surpassed the 1,500 career assist plateau for the Belles in the loss.
At the conclusion of the tournament, Kati Schneider was named to the all-tournament team for her efforts on the weekend. It is the second all-tournament team selection for the outside hitter this season.
The Belles (12-8) resume conference competition on Tuesday, October 14 when they travel to Trine for a 7:00 p.m. MIAA match against the Thunder.