Belles Tripped Up in Season Openers
Bethany Box Score - Mount Union Box Score
ALLIANCE, Ohio - The Saint Mary's volleyball team held their own but fell short in their opening matches of the 2014 season at the Mount Union Purple Raider Classic.
The Belles lost a 3-1 (21-25, 25-21, 25-17, 25-19) match against preseason favorite and defending Presidents' Athletic Conference champion Bethany (WV) in their first competition before battling in a 3-0 (25-23, 28-26, 25-22) loss to tenth-ranked Mount Union.
Katie Hecklinski led the team in the match against Bethany with 13 kills and 12 digs. Kati Schneider added 12 kills and nine digs, and Clare McMillan posted 30 assists.
In the second match of the night, Schneider led all players with 15 kills while posting 12 digs. McMillan added 29 assists and 10 digs, and Meredith Mersits registered 10 digs on defense.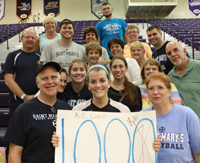 Kati Schneider celebrates her
1,000th kill with her family on Friday.Kati Schneider collected her 1,000th kill in the Belles' battle against the Purple Raiders. She became the first player since 2010 graduate Lorna Slupczynski and just the sixth player overall in program history with 1,000 career kills.
The Belles (0-2) are back in action tomorrow when they take on John Carroll at 10:00 a.m. and Lawrence at noon in day two of the Purple Raider Classic.