Belles Swept by Nationally-Ranked Knights
NOTRE DAME, Ind. - The Saint Mary's volleyball team was swept by fourth-ranked and defending national champion Calvin, 3-0 (26-24, 25-19, 25-12) on Tuesday night.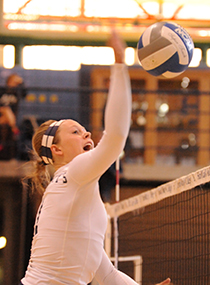 Melanie Kuczek led the Belles with
11 kills and three blocks
against Calvin.In the first set, the visiting Knights used a pair of four-point runs early on to establish a 13-8 advantage. Calvin continued to hold on to that same five-point advantage at 19-14, but that is when the Belles came fighting right back into the match. Meaghan Gibbons and Clare McMillan notched an ace each, Melanie Kuczek put down a pair of kills, and the Belles got back-to-back blocks to make it a 22-20 affair. A pair of errors by the Knights a few points later tied the set at 23-23, and Samantha Grady added an ace of her own to put the Belles up set point at 24-23. The Knights, however, were able to rattle off three points in-a-row to overtake the lead and claim the 26-24 opening set win.
The second set saw Saint Mary's fall behind 11-0, but the Belles again showed their grit and battled their way back into the set. After the first 11 points, Saint Mary's out-scored the Knights 19-14 while going on runs of four, four, and three points to make it 21-16 and force Calvin into taking a timeout. A three-point spurt late cut the Calvin lead to three at 22-19, but the initial deficit was too much to overtake as the Knights went on to claim the second set 25-19.
The Knights posted their best hitting percentage of the evening in the third set (.409) while the Belles had their least-effective attack percentage of the match in the same set (.043). Calvin put together a six-point run early and distanced themselves for good with another six-point run midway through the set.
Melanie Kuczek led the Belles with 11 kills and three blocks while posting a .421 hitting percentage. Kati Schneider added nine kills and a team-best 11 digs. Clare McMillan tallied 16 assists while Lexi Grady posted 12 assists.
The Belles (3-6, 2-3 MIAA) are back on the court on Friday, September 19 when they host Kalamazoo at 7:00 p.m.