Belles Defeat Grizzlies and Spartans at Tri-Match
Franklin Box Score - Manchester Box Score
NORTH MANCHESTER, Ind. - The Saint Mary's volleyball team earned a 3-1, (26-24, 23-25, 25-19, 25-15) win over Franklin before they capped off the day with a 3-2, (25-21, 23-25, 26-24, 26-28, 15-10) victory against host Manchester on Saturday evening.
The Belles opened up the fourth set against Franklin with a 7-0 run and pushed that advantage to 21-9 on their way to securing the win against the Grizzlies.
With the fifth set tied at 6-6 between Manchester and the Belles, Saint Mary's got big kills from Rachel Bonek and Leah Buck to take the momentum away from the Spartans. The back-to-back kills also gave the Belles the lead for good as the Belles claimed the five-set decision.
Against Manchester, Saint Mary's posted a .248 hitting percentage for their third-consecutive match with at least a .200 attack percentage. The five-set win also marked the team's second five-set victory of the week.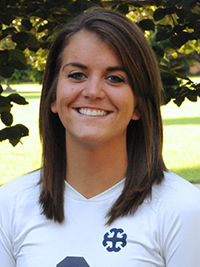 Kati Schneider had 25 kills in the
Belles' four-set win over Franklin.In the win against Franklin, Kati Schneider led all players with 25 kills to go along with 11 digs. Melanie Kuczek added 15 kills and six blocks, and Meaghan Gibbons added a match-high 28 digs. Clare McMillan posted 30 assists while Lexi Grady chipped in 25 assists. Samantha Grady tallied 16 digs, and Katie Hecklinski registered 15 digs.
Against Manchester, Hecklinski led all players with 23 digs while putting down 13 kills. Kuczek also had 13 kills and added three more blocks on the day. Leah Buck hit an impressive .583 with eight kills on 12 attempts and only one error. Gibbons chipped in 15 digs, and Schneider also had a double-digit dig effort with 10.
The Belles (7-6, 4-3 MIAA) returns to conference play on Tuesday, September 30 when they travel to top-ranked Hope for a 7:00 p.m. MIAA match against the Flying Dutch.