Belles Swept by Top-Ranked Flying Dutch
HOLLAND, Mich. - The Saint Mary's volleyball team lost 3-0, (25-16, 25-14, 25-15) to the NCAA Division III top-ranked Hope squad on Tuesday night.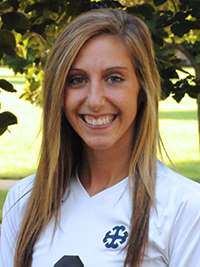 Katie Hecklinski led the Belles in
kills and digs against Hope.In the opening set, Hope won eight of the first nine points to quickly establish a sizable lead at home. After that initial run, the Flying Dutch and the Belles split the points almost down the middle with Hope holding a 17-15 edge.
The opening run by Hope was even larger in the second set as the Flying Dutch went ahead 12-0 to start. The Belles put together four points in-a-row to make it a 17-9 score, but the Flying Dutch responded with three points of their own to go ahead 20-9 before claiming the second set.
The third set was closely played by both sides to start. The Belles traded punches with the Flying Dutch to stay within two points at 6-4, 7-5, and 8-6. Back-to-back kills and an ace by Hope made it an 11-6 affair. Saint Mary's added a pair of kills a few points later to make it 12-8, but another spurt by Hope made it 15-8. Hope led by at least six points over the remainder of the set on the way to the three-set sweep.
Katie Hecklinski led the Belles with six kills and ten digs. Kati Schneider added five kills, and Melanie Kuczek had four kills and four blocks. Clare McMillan posted ten assists, and Lexi Grady chipped in nine assists for the Belles.
Saint Mary's (7-7, 4-4 MIAA) starts their second round of conference play on Friday, October 3 when they host Alma for a 6:00 p.m. match. The match will also be the team's Domestic Violence Awareness match, which is co-sponsored by the Belles Against Violence Office and several campus groups and clubs.