Belles Battle Past Hornets
NOTRE DAME, Ind. - The Saint Mary's volleyball team picked up a 3-1, (25-15, 25-19, 21-25, 25-19) conference win at home against Kalamazoo on Friday night.
The Belles broke open the first set with a 10-3 lead. Kalamazoo edged within three points at 10-7, but Saint Mary's came right back with a four-point run to pull ahead 14-7. The Belles led by at least five points down the stretch on the way to the 25-15 win.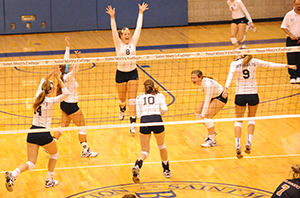 The Belles celebrate after winning match point
against Kalamazoo.In the second set, Saint Mary's was able to gain some momentum after coming back to tie the Hornets at 11-11. The Belles then turned the tables on Kalamazoo by winning the next five points in-a-row for a 16-11 advantage. That cushion proved to be enough as the Belles held off a late rally for the 25-19 win.
Visiting Kalamazoo broke through in the third set to keep the match alive. The Hornets broke a 12-12 tie midway through the set with a five-point spurt for a 17-12 lead. The Belles kept chipping away at the Hornets, however, and tied the game at 19-19 on back-to-back kills by Clare McMillan and Kati Schneider. Kalamazoo's response was a quick three-point run for a 22-19 late lead before claiming the 25-21 decision.
Much like the second set, however, the Belles gained momentum and an insurmountable lead midway through the fourth set. Saint Mary's won nine of a stretch of 11 points to establish a 13-7 advantage. The Hornets pulled within five points of the Belles three times and made it a four-point affair at 22-19. Saint Mary's had too much of a lead and too much energy for the Hornets late in the set as the Belles closed out the win with a kill by Melanie Kuczek and an ace by Meredith Mersits.
Kati Schneider led all players with 22 kills while adding 19 digs. Katie Hecklinski chipped in 10 kills and 18 digs. Clare McMillan posted 36 assists and 14 digs on the night. Meaghan Gibbons led the Belles with 20 digs, and Melanie Kuczek added 10 kills in the win.
The Belles (4-6, 3-3 MIAA) return to conference play on Wednesday, September 24 when they travel to Adrian for a 7:00 p.m. contest against the Bulldogs.