Belles Picked Third in Preseason Poll
FREELAND, Mich. - The Saint Mary's volleyball team was picked to finish third the 2014 season in the annual coaches preseason poll.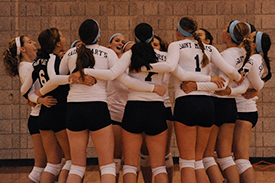 The Belles are behind American Volleyball Coaches Association (AVCA) preseason No. 4 Hope and defending national champion and AVCA preseason No. 1 Calvin in the poll. The team is coming off a highly successful 2013 campaign which saw Saint Mary's earn a berth to the top-four MIAA Tournament.
"We are so excited for this upcoming season," said head coach Toni Elyea. "This team has made huge strides in the last four years because of their hard work and determination. We have an opportunity to once again make the improvements necessary to take our team to new heights. With this group of retuning athletes along with a stellar incoming class, we are looking forward to another season full of success on and off the court."
The volleyball season begins on Friday, August 29 when the Belles travel to Mount Union for a two-day tournament. Saint Mary's opens the season with back-to-back matches against Bethany (West Virginia) and host Mount Union on Friday evening.
2014 MIAA Volleyball Preseason Coaches Poll
1. Hope (6) 10.
2. Calvin (3) 13.
3. Saint Mary's 23.
4. Trine 29.
5. Alma 41.
6. Kalamazoo 42.
7. Olivet 50.
8. Adrian 52.
9. Albion 64.