Belles Earn Pair of Wins to Open Elmhurst Invitational
St. Olaf Box Score - Simpson Box Score
ELMHURST, Ill. - The Saint Mary's volleyball team won a 3-0, (25-23, 25-16, 25-13) match against St. Olaf before defeating Simpson, 3-1 (25-17, 25-21, 17-25, 25-19).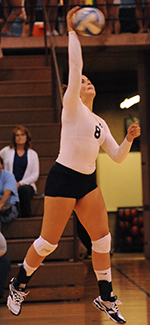 Kati Schneider led the
Belles in kills and digs in
both wins on Friday night.In the commanding three-set win against St. Olaf, Kati Schneider led all players with 13 kills and 14 digs. With the 14 digs, the senior outside hitter became the 11th player in program history to amass 1,000 career digs and the fifth player with 1,000 kills and 1,000 digs in a career. Melanie Kuczek and Katie Hecklinski each chipped in nine kills, and Hecklinski added 11 digs. Clare McMillan posted 32 assists, and Meaghan Gibbons had 10 digs.
Later against Simpson, Schneider continued to have a big night for the Belles as she put down 19 kills while hitting .400 and also registered 15 digs. Melanie Kuczek posted an impressive .455 hitting percentage with 14 kills. Katie Hecklinski also had double-digit kills with 10 in the win. Clare McMillan joined Schneider with a double-double after a 44 assist, 10 dig effort. Meaghan Gibbons added 12 digs in the win.
The Belles (11-8) compete in day two of the Elmhurst Invitational starting at 12:00 p.m. CDT when they take on Bethany (W.Va.). Saint Mary's will wrap up the tournament with a 2:00 p.m. CDT match against Wisconsin-Eau Claire.