Belles Bounced by Bulldogs
Katie Hecklinski had 15 kills, 12 digs for her fifth double-double
Clare McMillan added 31 assists
Rachel Bonek led the team with three blocks
NOTRE DAME, Ind. - The Saint Mary's volleyball team lost a conference match at home against Adrian on Saturday by a 3-0 (25-19, 25-23, 27-25) final.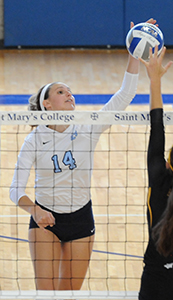 Rachel Bonek had seven kills
and three blocks.In the opening set, the visiting Bulldogs broke a 5-5 tie with four consecutive points to go ahead 9-5 after capitalizing on some Saint Mary's miscues. The Belles came back to tie the score at 10-10, 13-13, and 14-14 before claiming their first lead since 4-3 with a 15-14 advantage. Adrian came right back with a four-point spurt to regain an 18-15 lead. Rachel Bonek put down a kill, and she and Leah Buck teamed up for a block to regain some momentum and make it an 18-17 score. The Bulldogs, however, pulled back ahead with another quick run and closed out the first set with back-to-back aces for the 25-19 final score.
In the second set, Adrian pulled out to a 12-6 lead before the Belles made a big shift in the momentum. After a kill by Katie Hecklinski made it 12-7, Angela Bukur came in to serve nine straight points - including three aces - to turn the tables and make it a 16-12 game in favor of the Belles. A few points later, however, and Adrian had knotted the score at 18-18. Down the stretch, the Bulldogs would not be denied from taking a 2-0 lead with a 25-23 decision in the second set.
The Belles were in for a fight and did not go away easily against the Bulldogs as Saint Mary's claimed a 5-1 lead to open the third set. The Bulldogs rattled off six of the next seven points to go up 7-6. The set featured eight ties as both teams continued to fight for momentum and the lead late. The Bulldogs went up 24-21 on a kill and a block, but the match was far from being decided as the Belles refused to yield. Colleen Kilgallon put down a big kill, Katie Hecklinski served an ace, and an attack error by Adrian made it anyone's set as the score was tied yet again at 24-24. Facing set point again, the Belles came up big with a block by Bonek and Kilgallon for the 25-25 tie. But a blocking error and an attack error by the Belles late were the difference as the set went to the Bulldogs by a 27-25 final.
Katie Hecklinski led all players in the match with 15 kills while picking up her fifth double-double of the year with 12 digs. Clare McMillan registered 31 assists, and Angela Bukur tallied four service aces. McKenzie Todd picked up 15 digs, and Meaghan Gibbons added 11 digs of her own. Rachel Bonek chipped in seven kills and three blocks on the day.
The Belles (5-3, 1-2 MIAA) are back in action on Friday, September 18 when they take on Webster and Rose-Hulman at Millikin University.