Belles Split Results to Conclude Season
Albion Box Score - Kenyon Box Score
Katie Hecklinski had 24 kills and 22 digs in the two matches.
McKenzie Todd posted 41 digs.
Clare McMillan and Alexis Grady combined for 62 assists.
ALBION, Mich. - The Saint Mary's volleyball team bounced back from a 3-0 (25-17, 25-23, 25-16) loss against Albion to defeat Kenyon in a 3-0 (25-11, 25-17, 25-19) final.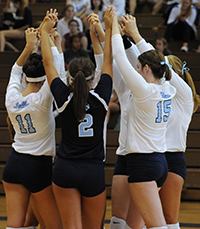 The win against the Ladies of Kenyon gave the Belles their 15th win of the season. It is the second consecutive season the volleyball team has won at least 15 wins, and it is the first time the Belles have posted consecutive 15+ win seasons since 1998 (15 wins) and 1999 (17 wins).
Against Albion, the Brits broke a 9-9 tie in the first set with a 7-0 run to take over all of the momentum on the way to the 25-17 win. The Belles pulled ahead 19-13 in the second set, but Albion outscored Saint Mary's 12-4 over the final stretch of the set to go up two sets to none. That comeback in the second set jump-started Albion in the third set as the Brits never trailed in the 25-16 final.
Katie Hecklinski led the Belles with nine kills while posting 14 digs against Albion. Meaghan Gibbons added eight kills. McKenzie Todd had a match-high 21 digs. Clare McMillan registered 15 assists, and Alexis Grady chipped in nine assists.
Saint Mary's rebounded in a big way against Kenyon in their second match of the day. The Belles used early spurts to take matching 9-3 leads in both the first and second sets against the Ladies before winning each of those stanzas for a two sets to none lead. The third set saw Kenyon play point for point with Saint Mary's through the first eleven points played. The Belles' hitting and blocking were too much for the Ladies to handle as Saint Mary's quickly turned a 6-5 lead into an 11-5 lead. The Belles led by as much as eight while keeping at least a four-point cushion against Kenyon down the stretch to close out the sweep with a 25-19 third set.
Against the Ladies, Hecklinski wrapped up a stellar career with a match-high 15 kills to go along with eight digs. Colleen Kilgallon hit .667 with seven kills and one error on nine attempts, and Leah Buck posted a .600 attack percentage with six kills on ten attempts and no errors while adding five blocks. Todd led all players with 20 digs. McMillan posted 19 assists, and Grady had 19 assists, seven kills, and three aces.
The Belles end their season with a 15-13 overall record and a 7-9 mark in MIAA play.