Hecklinski Hits Milestone as Belles Outlast Brits
Katie Hecklinski had a career-high 24 kills while surpassing the 1,000 career kill plateau.
Meaghan Gibbons, Alexis Grady, and Clare McMillan each added double-doubles.
Colleen Kilgallon hit .414 with a career-high 16 kills in the win.
NOTRE DAME, Ind. - Senior outside hitter Katie Hecklinski pounded down a career-high 24 kills on her way to becoming the seventh player in Saint Mary's volleyball history to eclipse 1,000 career kills as the Belles outlasted Albion, 3-2 (27-25, 26-28, 21-25, 25-22, 18-16).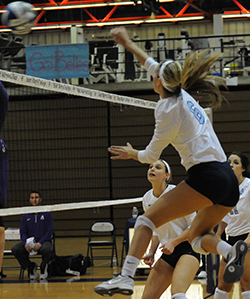 Katie Hecklinski posted a career-high 24
kills on her way to surpassing 1,000
career kills.In a match which featured 37 total ties and 12 overall lead changes, neither team was assured of anything on Wednesday evening. Trailing 23-20 in the first set, the Belles called a timeout and immediately drew even with two kills by Leah Buck and another kill by Rachel Bonek. A service error, however, put the Brits up set point at 24-23. Meaghan Gibbons delivered a kill to keep the set alive. Albion again went up set point, but back-to-back attack errors by the Brits turned the score into a set point opportunity for the Belles. After the Albion timeout, Angela Bukur served up an ace to ice the set 27-25 for Saint Mary's.
In somewhat similar fashion, the Belles were able to gain a late lead in the second set by going ahead 23-21 on a kill by Katie Hecklinski. Two points later, Saint Mary's held the 24-22 set-point advantage after a service error by the Brits. Consecutive kills by Albion led to a 24-24 tie as the set was far from being decided. Errors by both sides and a kill by Gibbons pushed the score to 26-26. The Brits were able to put away consecutive kills yet again for the 28-26 set win.
Four blocks in a row by the Brits early in the third set gave Albion a 7-3 lead, but Saint Mary's was bale to pull even at 9-9 after kills by Buck and Hecklinski. Two points later, Hecklinski put down her 1,000th kill on a deep shot down the line to tie the set at 10-10. The excitement from the milestone, however, was unable to generate sustained momentum as Albion used a four-point run to go up 16-12. The Belles once again came back to tie the set at 18-18 and 19-19, but the Brits had a five-point run to go ahead 24-20 before taking the 25-21 decision for the 2-1 overall match lead.
The fourth set was greatly dictated by Saint Mary's. The Belles jumped out to an 11-4 lead to regain momentum. The Brits responded by chipping away at the deficit and eventually pulling within a point at 22-21, but Saint Mary's refused to yield late while also using a pair of Albion miscues to go up set point at 24-21. A service error kept the set alive, but Meaghan Gibbons made quick work of the next point by putting down a kill to force a decisive fifth set.
True to the form of the rest of the match, the fifth set was a nailbiter. An early Saint Mary's run was countered by a four-point spurt by Albion. The Brits then went ahead 8-6 as the teams switched sides, but the Belles knotted the score at 9-9, 10-10, 11-11, 12-12, and 13-13. Saint Mary's then went ahead match point at 14-13 after kills by Kilgallon and Grady, but the Brits would be the ones to keep the match alive late. Each team responded to the other over the next six points with alternating kills as Saint Mary's held two more match-point advantages during that stretch. The last of those alternating kills came from Katie Hecklinski, which put the Belles up 17-16. This time, the Brits were unable to come up with an answer as an attack error in the net by Albion capped off the thrilling come-from-behind win for the Belles.
Hecklinski led all players with 24 kills and 30 digs. Colleen Kilgallon had a .414 attack percentage with a career-high 16 kills and only four errors on 24 attempts. Meaghan Gibbons chipped in 13 kills and 21 digs. Leah Buck posted 10 kills, and McKenzie Todd registered 24 digs. Alexis Grady had 38 assists to pace the offense to go along with 10 digs while Clare McMillan tallied 25 assists and 11 digs.
The Belles (10-4, 4-3 MIAA) have a break from conference play this weekend as they compete in the Wheaton Invitational on Friday and Saturday. Saint Mary's faces off against North Central before taking on No. 12 Wisconsin-Stevens Point on Friday night.