Belles Tripped Up by No. 5 Knights
Katie Hecklinski had 10 kills and 16 digs to pace the Belles.
Clare McMillan tallied 15 assists, and McKenzie Todd had seven digs.
Leah Buck had three blocks.
GRAND RAPIDS, Mich. - The Saint Mary's volleyball team lost a 3-0, (25-22, 25-14, 25-15) conference match against fifth-ranked Calvin on Friday night.
The opening set was a tight one as the score was tied on 13 occasions with the lead changing hands seven times. Trailing 14-12, the Belles made a big move toward the potential upset and created one of those such lead changes with a four-point run. Alexis Grady and Leah Buck both put down kills, the Knights had a hitting error, and Buck and Morgan Klein teamed up for a block to make it 16-14 in favor of Saint Mary's. Calvin, however, quickly turned things back around and regained the lead by winning five of the next six points to make it 19-17.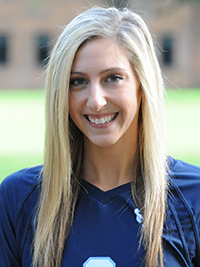 Katie HecklinskiKatie Hecklinski pounded out consecutive kills to knot the score at 19-19, but the Knights pulled ahead 21-19 on consecutive kills of their own. A Calvin service error followed by an attack error by the Knights made it a 21-21 score. Down the stretch, Calvin was able to hold off the Belles with kills on four of the final five points for the 1-0 lead.
The second and third sets both saw the Belles fall behind after early runs by the Knights. Unlike the first set, Saint Mary's was unable to find an answer for Calvin as the Knights claimed the three-set decision with 25-14 and 25-15 scores in the final two sets.
Katie Hecklinski registered her 13th double-double of the year with 10 kills and 16 digs to lead the Belles. Clare McMillan had 15 assists, and McKenzie Todd posted seven digs. Leah Buck led the team with a solo block and two block assists on the night.
The Belles (11-9, 4-5 MIAA) have a short rest before turning around to host Trine at 11:00 a.m. on Saturday at Angela Athletic Facility.