Belles Toppled by Second-Ranked Knights
Katie Hecklinski and Meaghan Gibbons each had nine kills
Hecklinski was tied for the most digs in the match with 12
Leah Buck registered three block assists
NOTRE DAME, Ind. - The Saint Mary's volleyball team ended on the short side of a 3-0 (25-13, 26-24, 25-10) final against No. 2 ranked Calvin in both teams' conference opening match of the year.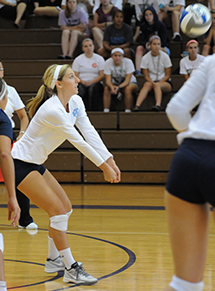 Katie Hecklinski had nine kills and
12 digs for the Belles.In the first set, the visiting Knights jumped out to an 8-2 lead and did not trail at any point. The Belles were unable to find their rhythm as Saint Mary's had nine kills and nine attack errors in the opening set of play.
The second set was a different story as the Belles pushed the Knights to their limit. Playing toe to toe, the teams traded points back and forth during the early going of the set before the Belles rattled off four straight points to pull ahead 10-8. With the score knotted at 12-12 a few points later, Saint Mary's again found the edge with a spurt to take an 18-14 lead.
The Belles were able to push that lead even later into the set as Saint Mary's held set point against the Knights at 24-20. Calvin responded with a late rally and scored the final six points of the set to claim the 2-0 lead heading into the third set.
The momentum stayed in the favor of the Knights throughout the early goings of the final stanza of play. Similar to the first set, Calvin claimed an early lead before sweeping the match with a 25-10 final in the third set.
Katie Hecklinski and Meaghan Gibbons each posted nine kills, and Hecklinski shared match-high honors with 12 digs. Clare McMillan had 12 assists, and Leah Buck added three block assists.
The Belles (4-2, 0-1 MIAA) travel to in-state conference rival Trine on Friday, September 11 for a 7:00 p.m. match against the Thunder.